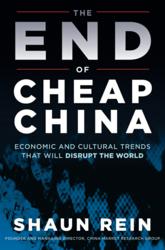 "As China begins to take on a more significant role in international affairs and as commodity prices rise, Americans face a deepening threat to their accustomed way of life and consumption," says Rein.
Hoboken, NJ (PRWEB) March 27, 2012
In his new book, "The End of Cheap China: Economic and Cultural Trends that Will Disrupt the World" (Wiley; March 2012; Hardcover & ebook; $24.95; 978-1-118-17206-3), Shaun Rein, founder of the China Market Research Group, puts China's continuing transformation from producer to large-scale consumer - a process that is farther along than most economists think - under the microscope, examining eight megatrends that are catalyzing change in China and posing threats to Americans' consumption-driven way of life.
"Many Americans know China for manufacturing cheap products, thanks largely to the country's vast supply of low-cost workers. However, China is changing, and the glut of cheap labor that has made everyday low prices possible is drying up as the Chinese people seek not to make iPhones, but to buy them," says Rein.
Rein takes an engaging and informative approach to examining the changes taking place across all levels of Chinese society, talking to everyone from Chinese billionaires and senior government officials, to poor migrant workers, and even prostitutes. He draws on personal stories and experiences from living in China since the 1990s, as well as hard economic data. Each chapter focuses on a different aspect of China's transformation—from trailblazing Chinese companies, to newly employed Chinese women, to the role of China's government—and at the end breaks down key lessons for readers to take away.
"The End of Cheap China" shows:

How rising labor and real estate costs are forcing manufacturers of cheap Chinese products to close, relocate, or move up the value stream
How a restructuring economy moving away from exports to domestic consumption, and rising incomes will create opportunities for foreign brands to sell products in China rather than just producing there
How Chinese consumption will build pressure on the global commodities markets, causing both inflation and friction with other nations
How China's economic transformation spells the end of cheap consumption for Americans
"Despite China's massive population, jobs are now abundant and gender equality in general is improving. There has also been a shift in the mentality of Chinese workers from even a decade ago, when good jobs were hard to come by and people would accept harsh conditions if it meant having a steady job," says Rein. "The younger generation's optimism about their futures and career prospects is palpable. They have witnessed China's rise to economic superpower status, come through a financial crisis stronger than any other nation, and have yet to live through a downturn. Filled with electric optimism, and seeing opportunities to get rich everywhere, they are no longer willing to debase themselves in humiliating work, slave away in factories thousands of miles away from homes and families, or toil in jobs that do not empower them to achieve their white-collar dreams."
"The End of Cheap China" explains how America's economic growth for the past three decades has been largely attributed to the willingness of Chinese laborers to slave away in factories. As China begins to take on a more significant role in international affairs and as commodity prices rise, Americans face a deepening threat to their accustomed way of life and consumption. "The End of Cheap China" exposes how this will impact the rest of the world, and gives expedient tips as to how businesses can turn profit in the changing global marketplace and clear advice on how companies can succeed in the new world order
Rein adds, "It does not matter if you are a businessman, politician, teacher, student, or just someone curious about China and changes in the world today: It is important to understand, by using objective data points rather than red herrings and phantom facts, how 'The End of Cheap China' will impact our lives."
About the Author
Shaun Rein is the founder and Managing Director of the China Market Research Group (http://www.cmrconsulting.com.cn), a leading strategic market intelligence firm that advises Fortune 500 companies, private equity firms, and hedge funds about profiting in China. He also wrote a weekly column on business in China for CNBC.com. He regularly appears on Bloomberg TV, CNBC, CBS News, CNN, and NPR, and is often featured in the Wall Street Journal, the Economist, the Financial Times, Bloomberg BusinessWeek, and the New York Times.
Follow him on Twitter at @shaunrein
If you are interested in an interview with Rein, a review copy of the book or any additional information, please contact Melissa Torra, Publicist – WILEY mtorra(at)wiley(dot)com – 201-748-6834
###