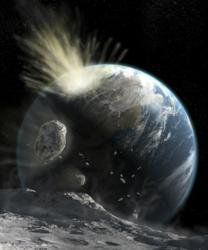 Works of art that foretell what the world may look like after the apocalypse.
Orlando, FL (PRWEB) May 17, 2012
Stocktrek Images, a global leader in specialty stock imagery, has curated a unique collection of illustrative theories on the next Armageddon. As 12-12-12 draws close, a great deal of end of the world speculation has escalated. This is due to a number of factors including various planetary alignments, and differential numerological interpretations, and most notably the Mayan Calendar. The interest has heightened due to popular Hollywood movies such as the John Cusack blockbuster, "2012," and others such as "I am Legend" and "Armageddon." In order to assist those interested in the so-called "2012 phenomenon," Stocktrek, a professional stock photography agency, has curated a dynamic collection of catastrophic imagery.
Ryan Rossotto, Stocktrek Images president, said that "There is quite a bit of interest and hype in futuristic events regarding how the world will end as well as images depicting these scenarios. Many authorities in the apocalyptic fields believe that the end of the world will be caused by a stellar event such as an earth-asteroid collision or solar storms. Many theories of the end times exist, so our apocalypse gallery is curated in order to cover a wide range of possibilities and hypothesis."
The 2012 apocalypse collection includes images of cataclysmic solar flares, giant asteroid impacts, black hole anomalies, nuclear holocaust and even alien invasions. Rossotto added that, "Naturally, end of the world theories are as varied as the cultures that created them. Stocktrek presents a comprehensive selection to our customers showcasing many works of art that foretell what the world may look like after the apocalypse.
Stocktrek has made it an important component of its offerings to provide a wide array of images to its customers. While each group may believe in a different Armageddon scenario, it is the strident hope of Stocktrek Images that end of the world 2012 believers will embrace the wide-ranging scenarios presented in the new compilation.
Customers are invited to peruse Stocktrek's unique photos and illustrations at StocktrekImages.com. The images may be ordered as high quality art prints or royalty free use. In fact, if apocalyptic visions hold true, interested parties should definitely hurry to Stocktrek Image's website and make their order before time runs out.
About the Company: Stocktrek Images is a stock photography agency specializing in imagery of military forces, space exploration, dinosaurs, volcanic activity and underwater photography. In addition to licensing royalty free and rights managed stock photos and illustration, Stocktrek also provides customers with the capability to purchase any images as a print or poster. It offers many different types of wall décor, from wall murals and canvas art, to basic prints with custom framing.
While Stocktrek is primarily known for its space and military content, it continues to expand its various product offerings. Stocktrek represents the talented work of photographers and artists worldwide, with over 15,000 images in its online library, and thousands more in-house. Stocktrek is an independent, privately owned business entity.