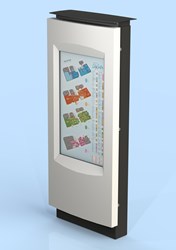 The Endura-One Kiosk is perfect for interactive digital signage and way finding applications.
Medfield, MA (PRWEB) January 13, 2014
Comark Corporation will feature their new Endura-One outdoor monument kiosk at the NRF Big Show being held from January 13th – 14th at the Jacob Javits Convention Center in New York City.
The new Endura-One kiosk features a large, 47" high-definition sunlight readable (2000 NIT) LCD display, with an integrated projected capacitive touch screen and other optional peripherals. The attractive, interactive kiosk is ideal for malls, outlets, campuses, airports or other high traffic locations. Possible applications include interactive way finding, information, digital coupons, social media, emergency messaging, and more.
NRF Big Show visitors will be encouraged to interact with the Endura-One kiosk using interactive way finding software provided by Jibestream. Located in Booth # 1001, Comark will also be introducing the Versa-One and Versa-Two kiosks, two more new additions to their rugged and reliable kiosk product line. These kiosks will feature for the show software from Livewire Digital and Kioware.
To learn more about Comark's products and services, please visit booth #1001, or contact Scott Plesh at 508-359-8161 ext.115 or by e-mail at splesh(at)comarkcorp(dot)com. or Rob Chilcoat at ext.160 or email at rchilcoat(at)comarkcorp(dot)com. For detailed product information, please visit Comarks web site at http://www.comarkcorp.com.
About Comark Corporation
Comark Corporation is a designer and manufacturer of high-performance, ruggedized computer and display solutions for mission critical applications for retail, self-service, building, industrial, and mobile automation. The self-service division designs and manufactures a variety of standard and customized kiosk and digital signage solutions for retail, transit, and self-service applications. The Company is driven by over 35 years of innovative solutions with over 80,000 systems fielded.