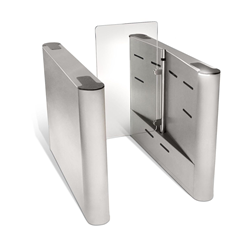 Fastlane IP turnstiles help neutralize these threats for many Fortune 100 companies, which is a testament to the superior entrance security they deliver
Austin, TX (PRWEB) May 13, 2015
Smarter Security, Inc., provider of premium, innovative entrance control and outdoor security solutions, today announced a top ten energy company selected Fastlane Glassgate® 200 optical turnstiles for a facility in the northeast. After switching to Fastlane from a competitor, this will be the second installation for this customer as it moves to strengthen entry security in buildings in many parts of the country.
"We have enjoyed great success in helping to secure energy companies in recent years, and we are pleased to continue our relationship with this organization," said Jeff Brown, CEO of Smarter Security. "Energy is a critically important industry in the global economy and with this position comes a higher threat level. Fastlane IP turnstiles help neutralize these threats for many Fortune 100 companies, which is a testament to the superior entrance security they deliver."
The energy company ordered four lanes of Fastlane Glassgate 200 from Smarter Security to secure the main lobby and a second entrance for a building in the northeast United States. After a disappointing experience with a competitor, the customer purchased Glassgate 200 for a different building last year and this experience led to the latest order of the same model. The aesthetics of Glassgate 200 were an initial draw and the reliability after nearly a year of running them is appealing today. The barriers for this latest order are 5-feet high to deter people from jumping over them and are equipped with a locking brake to obstruct unauthorized access when the entrances are unstaffed. To avoid coring the floor of this older building, the customer ordered Fastlane floor protectors.
Smarter Security's Fastlane Glassgate 200 is an IP-enabled optical turnstile with swinging glass barriers available in three different heights. The barriers quickly open in the direction of travel for authenticated users and can remain open for other authenticated workers to provide the fastest throughput speed in the industry. Tailgaters passing through the open barriers are alarmed while objects carried, pushed or pulled cause no alarm due to intelligent Fastlane optical technology. An electromechanical locking brake is a high-security option that prevents unauthorized users from pushing past closed barriers.
About Smarter Security, Inc.
Smarter Security provides premium and innovative entrance control and outdoor security solutions to help organizations protect their people and assets in a world of ever-present threats. Since 1992, Smarter Security has offered Fastlane turnstiles, the most elegant and intelligent optical turnstiles available, which protect thousands of commercial and governmental lobbies on six continents. Smarter Security also offers perimeter intrusion detection systems, including SmarterFence, a fiber optic fence-mounted sensor. For more information, please visit http://www.smartersecurity.com.
Fastlane and Fastlane Glassgate are registered trademarks of Integrated Design Limited.