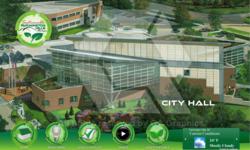 "QA Graphics did a great job with the visual content. The interactive demonstrations are the most used feature on the dashboard, showing how the geothermal and solar panel systems work."
Ankeny, IA (PRWEB) February 26, 2013
The City of Farmington Hills in Michigan is now using QA Graphics' Energy Efficiency Education Dashboard® to educate staff and the public on the City Hall's sustainable initiatives.
Farmington Hills' City Hall went through a major revitalization project, constructing a new sustainable building. To inform the community on these sustainable efforts, Farmington Hills looked at QA Graphics to develop an Energy Efficiency Education Dashboard. The dashboard is an interactive application used to highlight the building's performance and educate about the sustainable features. Displayed on a touchscreen in the main corridor, it serves as a central communication resource to demonstrate the City Hall's commitment to sustainability.
"The solution looks great and is very user friendly," said Nate Geinzer, Assistant to the City Manager, The City of Farmington Hills. "QA Graphics did a great job with the visual content. The interactive demonstrations are the most used feature on the dashboard, showing how the geothermal and solar panel systems work."
The Energy Efficiency Education Dashboard includes a variety of educational information, explaining the green features that were implemented during the construction process. For example, how building materials were recycled from the original City Hall, how the green roof, rain gardens and pervious pavers are used to treat 78 percent of the site's annual rainfall, as well as other green features including native landscaping, energy efficient lighting, day lighting practices, and the solar photovoltaic system. Interactive demonstrations further illustrate how the geothermal, photovoltaic and solar thermal systems work, and a detailed checklist illustrates the different criteria met to earn LEED Gold certification.
The dashboard also helps viewers understand how efficiently the building is operating. Real-time building performance feedback shows how much energy is produced by the photovoltaic system. To make this data relatable to everyone, it's compared to everyday items; for example, if 154211.5 kWh of energy is produced, that could power 13.7 average sized homes for a year. To keep the content up-to-date, the City has the ability to change the information and graphics in designated areas using a content management system.
QA Graphics develops custom Energy Efficiency Education Dashboards for organizations of all types. The solution can be deployed via touchscreens or kiosks onsite, on the web, and on mobile devices. To display real-time building data, the solution integrates with existing building automation systems, meters or devices and does not require custom software. A variety of features may be added, including news feeds, calendar, menu, area attractions, sponsor information, school curriculum and other custom solutions, allowing the dashboard to be used for all display needs. Learn more at http://www.qagraphics.com/eeed.
About QA Graphics
QA Graphics is a leader in the building automation and green building industries, providing HVAC graphic development services, system graphics, floor plan graphics, and energy dashboards to help organizations educate occupants about building performance and sustainability. The company also specializes in interactive applications, 3D design and animation, mobile app development and other multimedia.