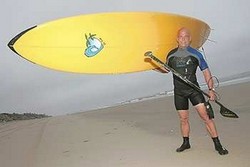 Contrary to the industry giants, we have no megadoses of taurine, caffeine, processed sugar or vitamins in our beverages. Like the oceans, we want to be all natural and life-enhancing. That's why we signed on as the title sponsor for this event.
Orange, CA (PRWEB) September 6, 2007
On the surface, the two men are an unlikely pairing in an epic three-month expedition -- "California Paddle 2007" -- to draw attention to the problem of plastic pollution in the world's oceans and its detrimental effect on marine life. (http://www.CaliforniaPaddle.com)
Jones, an extreme endurance athlete and environmental activist, set out on a 14-foot paddleboard on Aug. 4 at the state's watery northern tip with the objective of becoming the first person to paddle the entire 1,250-mile California coastline. In recent weeks, hundreds of surfers have welcomed him in the surf and on various beaches in support of his exhausting quest.
Duggins is founder and CEO of EX Drinks U.S., LLC, (EXDUS) of Orange, CA, which began this summer distributing three drinks -- EX Pure Energy™, EX Slim Energy™ and EX Chill™ -- in Hawaii and California. (Photos: exdrinksus.com/media.html) EXDUS is the exclusive U.S. distributor for London, England-based Extreme Drinks LTD, part of Extreme Group and Extreme International, which founded the Extreme Sports Channel.
"Beyond our corporate name and affiliations, we've taken an extreme position for an energy drink firm," Duggins contends. "Contrary to the industry giants, we have no megadoses of taurine, caffeine, processed sugar or vitamins in our beverages. Like the oceans, we want to be all natural and life-enhancing. That's why we signed on as the title sponsor for this event."
"I started the Campaign for a Plastic-Free Ocean with the idea that everyone has a responsibility to the environment and everyone has the power to make positive change in their world," said Jones, a motivational speaker, martial arts expert and international kickboxing champion. "My aim is to combine the resources of governments, corporations and individuals to solve this difficult problem."
Jones, also known as an endurance runner, inventor, humanitarian and child advocate, may have his endurance and inventiveness thoroughly tested. A recent study found there are six times more plastic in the ocean than plankton off the California coast. A United Nations Environmental Report estimated that there are more than 5.76 million tons of plastic in the oceans. That equates to enough to put two thirds of California in a plastic bag.
The event is already supported by such legendary surfers as Laird Hamilton, Rob Machado, Mickey Munoz and Jericho Poppler, some of whom have helped him with training and joined his support team.
Other event partners and sponsors include: Alaskan Brewing Co., Joe Bark Surfboards & Paddleboards, Believe Agency, Bimini Adventures, Katin Surf Shop, K.O-Knockout Fitness Recovery Drink, Ohana Health Company, Patagonia, QuickBlade, S&S Metals & Plastics, Save Our Shores, silverStar Finance, Inc., Teva (shoes), Westfall International, Wild Oats Marketplace and World Black Belt, with more encouraged to sign on.
Jones, advancing southward at 10 to 15 miles a day, is expected to pass Santa Cruz' "Red Triangle," where great white sharks breed and feed on elephant seals and sea lions, at the height of shark season. They probably won't intimidate the man who ran an unprecedented 120 consecutive marathons (26.2 miles each) in 120 days from his Huntington Beach, CA, home to New York City in 2000.
Online Progress ... Paddle Teams ... Shore Stops
Tom's progress can be viewed online with a site map or satellite image. His daily journal entries read like a pioneer or explorer: 8/28/07 -- Current Position -- "Rough day today. There was very dense fog and eight-ft. swells. The seas were so big, I lost my board and my paddle. I have a back-up board and paddle and thankfully no one was hurt. The ocean can be a very scary place. Tom"
Thousands of volunteer paddlers will have a once-in-a-lifetime opportunity to participate in the historic event. At the end of each day his location is pegged to a GPS position. He returns to that point each morning to resume the expedition. Upcoming shore stops include:
Sept 6 - Bodega Bay Oct 1 - Morro Bay Oct 28 - Laguna Beach
Sept 8 - Stinson Beach Oct 3 - Pismo Beach Oct 29 - Dana Point
Sept 9 - San Francisco Oct 13 - Santa Barbara Nov 2 - La Jolla
Sept 10 - Pacifica Oct. 20 - Malibu Nov 1 - Cardiff
Sept 15 - Santa Cruz Oct. 23 - Hermosa Beach Nov 3 - San Diego
Sept 20 - Monterey Oct. 25 - Long Beach Nov 4 - Imperial Beach
Sept 21 - Carmel-by-the-Sea Oct. 27 - Huntington Beach
Communities can participate in "Paddle Out With Tom" events with their own "Paddle Teams." The teams can get friends, family and co-workers to sponsor them, with pledged donations going to help rid the oceans of plastic pollution. "The California State Assembly is also considering five ocean pollution initiatives that deserve citizens' attention and support," Jones stated.
Additionally, through the courtesy of one of its investors, EX Drinks has a highly decorated 23-foot Navion RV paralleling the salty odyssey. EXDUS Partner Kristin Hirtz will welcome Jones ashore at various locations and sample the flavors to visitors.
"Obviously, we want to draw attention to our brand, but also to this individual and his inspiring campaign," Duggins emphasized. "And it is not just because I spent so much of my own youth in the California surf," quipped the San Capistrano native. "This is a great way for educators and parents to get children involved in ecology, geography, the environment and sustainability issues, too."
EXDUS, which began its national marketing strategy in late July, is offering online ordering (http://www.EXDrinksUS.com). Initially, the drink brands are being sold in convenience, health food and grocery stores in 8.4 fluid ounce cans. The drinks retail from $2 to $2.49 each, with 16-ounce cans to be introduced in October.
ATTN: Sports, Environment, Education, Lifestyle, Health-Fitness, Parenting, Food-Nutrition Editors
EDITORS & EDUCATORS: For an accessible Photos Gallery of athlete Tom Jones, as well as Logos, Links & Resources, Newsletters, Daily Progress Reports and a Press Room, go to (http://www.CaliforniaPaddle.com)
EDITORS' REVIEW SAMPLES: To receive samples of the three new drinks, please e-mail Bonnie Wessig at company headquarters: Bonnie @ EXDrinksUS.com with your Name, Title, Medium, physical address and phone number.
FOR MORE INFORMATION OR INTERVIEWS:
Jarod Duggins, CEO & Founder, EX Drinks U.S., LLC, Orange, CA, 877-251-3541 or 714 692-1598; Jarod @ EXDrinksUS.com; http://www.EXDrinksUS.com
Preston F. Kirk, APR, Kirk Public Relations, Austin, TX, 830-693-4447, kirk @ 281.com
Jeff Flowers, The Flowers Group, San Diego, CA, 858-558-6890, ext. 107, JFlowers @ FlowersGroup.com
# # #