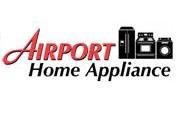 Hayward, CA (Vocus/PRWEB) March 08, 2011
Airport Home Appliance, a Bay Area appliance specialist, knows that investing in a new home appliance can be a tough decision. To save now or to save later? Energy efficient models generally cost more upfront but will reduce the cost of utilities in the long run. The U.S. Department of Energy says that every $1 invested in an energy improvement project can save $4-7 in energy costs over the lifetime of the new appliance. This is true for all major appliances.
Front-load washing machines, which use less energy and water than top-loaders, can save households up to $129 a year on their utilities bill. An energy efficient front-load washing machine has faster spin cycles. This wrings more water out of laundry, meaning less time in the dryer and more savings on energy.
Energy efficient refrigerators contain improved insulation and compressors with more precise controls and defrost mechanisms. These improvements help the refrigerator use 50 percent less energy than one that was made 15 years ago. Households can earn up to $72 a year on their utility bill with the purchase of an energy efficient refrigerator.
One great consumer resource that can help with the upfront costs of energy efficient household appliances is the Energy Star program. Consumers can go to http://www.energystar.gov/index.cfm?fuseaction=rebate.rebate_locator to find rebates in their area.
PG&E will send customers a $35 check when they call Jaco Environmental to arrange for the proper disposal of their old refrigeration unit. Jaco Environmental is open Monday through Friday from 7 AM to 6 PM and can be reached by calling (800) 299-7573.
For more information about energy efficient appliances or any other products available from Airport Home Appliance, call them at (510) 695-2546, view them on the web at http://www.airportappliance.com, or visit one of their showrooms in Hayward, San Jose or Redwood City.
About Airport Home Appliance
Airport Home Appliance is an authorized retailer of 80 brands of top-name appliances—more than any other store of its kind in the San Francisco Bay Area. In addition to appliances, they carry faucets and sinks in their San Francisco Bay Area showroom. All retail locations are Diamond Certified, meaning they have earned the highest marks in customer service and consumer satisfaction.
In addition to GE products, Airport Home Appliance sells Frigidaire washing machines and Whirlpool washing machines in the San Francisco Bay Area. Airport Home Appliance currently has washing machines on sale, dryers on sale, and stoves on sale at their locations in the East Bay (Hayward), the Peninsula (Redwood City), and San Jose.
###