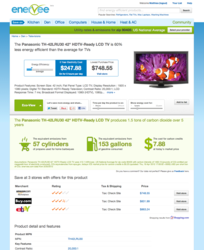 Enervee is showing the cost of owning things when you can still do something about it - at the moment of purchase.
Santa Monica, CA (PRWEB) May 02, 2012
Enervee launches new website at http://www.enervee.com showing the personalized energy cost, the eco-impact and lowest purchase price for tens of thousands of products in over 30 categories.
Enervee.com adds the personalized cost of owning things to the shopping comparison process - revealing significant savings in energy cost for consumer electronics, computers and appliances. These categories make up 33% of the the total online retail market that is projected to reach $279 billion in 2015**. Enervee's data analysis shows that consumers and business can easily save 10% of total spending in these categories by choosing more energy efficient products - bringing the total savings potential to $9.3 billion.
Using proprietary analytics and expanding on data from ENERGY STAR and other sources, Enervee compares products based on energy efficiency and personal cost. Something that is not possible with the current ratings as the individual cost differ greatly per product and change significantly with a users' product use and utility rate.
"We recognized that lots of people want to buy energy efficient products but don't do it because there is no practical way to compare them. That's why we created Enervee.com - which is available from today," Matthias Kurwig, Cofounder and CEO of Enervee, explained. "We are confident that seeing a products' energy cost at the moment of purchase - when you can still do something about it - will be very eye-opening for many shoppersm," he added. 
Using rates from over 3,000 utility providers (ranging from 6 to 36 cents per kWh) and the time a specific product is used, Enervee calculates a user's personal energy cost. This is significant as electricity cost over a few years can be hundreds of dollars for products like TVs, freezers or home theater systems. And, the difference between otherwise comparable products can be huge too. An example: The electricity cost for a specific 57" Samsung TV is over $500 over 5 years versus a certain 60" Sharp TV which is about $80 for the same period. That's a 600% difference in favor of the larger TV.
Analyzing thousands of products Enervee provides energy efficiency ratings per category making it easy for shoppers to compare energy cost relative to a products' class or performance. The Enervee Eco-View sheds light on the environmental impact of running individual products - calculating the greenhouse gas emissions specific to a users' utility company and product use. The differences can be huge from almost nothing to the equivalent of consuming hundreds of gallons of fuel for a single freezer. Enervee.com allows users to connect their social network profile to sign-in and share products and savings over Twitter, Facebook, Google Plus and Pinterest.
About Enervee
Enervee brings energy cost to the shopping process. Initially focused on electricity, future releases will include gas, water and other resources. Enervee will expand it's decision engine beyond shopping into real estate and transportation and geographically into Europe and Asia.