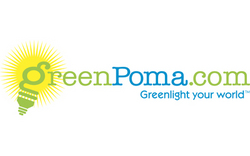 a kitchen with 6 high hat fixtures using 65 watt traditional floods burning 6 hours per day will cost about $100 to light for a year.
Concord, NH (PRWEB) April 29, 2009
GreenPoma.com, an online retailer of premium, energy-efficient light bulbs, is pleased to announce the launch of an innovative new dimmable CFL (or dimmable compact fluorescent lamp) and dimmer bundle for recessed down lights and track fixtures. The product, Greenlight Your World(TM) High Hat Synergy Solution, is the result of a collaborative design and engineering partnership between Philips Lighting Company and Lutron, Inc. Through this partnership, these two industry leaders have minimized the technological hurdles of dimmability with CFLs, creating energy-efficient light bulbs that are not only long-lasting but good for the environment as well.
"Dimming household lights is an easy way to save electricity and reduce carbon emissions," says Peter Ellinwood, Co-owner of GreenPoma.com, "and we love dimmable CFL products for their superior energy savings." "But," he adds, "until now, we have been unimpressed with their performance.
The new bundle combines Philips' 16 Watt Marathon® Energy Saver Dimmable Reflector Flood R30 CFL with either a Skylark® or Diva® matched Lutron dimmer switch for bright light, superb energy efficiency, and flicker-free, wide dimming performance. Ellinwood continues, "This combination is the best and brightest dimmable CFL solution we've found, and we're very excited to offer it to our customers."
Of all the rooms in a typical home, the kitchen may be the most expensive to light and the largest contributor to greenhouse gas emissions. "For example," says Ellinwood, "a kitchen with 6 high hat fixtures using 65 watt traditional floods burning 6 hours per day will cost about $100 to light for a year." Switching to this modern dimming CFL package would save $264 over the 8,000 hour life of the bulbs and the reduced CO2 emissions would be equal to parking an average sized car for 120 days. For more information on GreenPoma's selection of energy-efficient light bulbs, please visit http://www.GreenPoma.com.
About GreenPoma
Founded on the desire to inform and educate consumers on greener lighting options, GreenPoma offers a variety of energy efficient lighting alternatives for sale on its website. Leading the way in the green revolution with hard-to-find bulbs from leading manufacturers, GreenPoma specializes in fully recyclable packaging, detailed, personalized reports on the money and carbon dioxide emissions you're saving, and simple, helpful advice from its Bulb Finder tool. To learn more about GreenPoma or to make a purchase, please visit http://www.greenpoma.com.
###