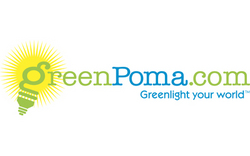 Our goal is to ensure that GreenPoma is the go-to source for objective information on eco-friendly, energy-efficient lighting solutions that don't sacrifice light quality
Concord, NH (PRWEB) September 9, 2009
GreenPoma.com, an online retailer of premium, energy-efficient light bulbs, announces that it has re-launched its website, offering new and updated information to help guide consumers who are interested in purchasing green light bulbs and other eco-friendly lighting solutions.
The website's resource section has been expanded to focus on the topics that consumers are concerned with the most, including the impact of energy-efficient lighting on utility bills, the benefits of using environmentally-friendly light bulbs, how to choose green light bulbs for your home or office, and the perks of using CFLs over traditional incandescent light bulbs. Another valuable source of information, the GreenPoma Blog, keeps consumers up-to-date on current green lighting news. The site also features an easy-to-use Bulb Finder, which helps consumers select the right green light bulbs for any fixture based on wattage needs, lighting strength, color, proper fit and special features such as dimmability, shatter-resistance and wet-location use
"Our goal is to ensure that GreenPoma is the go-to source for objective information on eco-friendly, energy-efficient lighting solutions that don't sacrifice light quality," says Peter Ellinwood, Co-owner of GreenPoma.com. "Our experts follow the latest trends on energy-efficient light bulbs and pass on that information to our residential and small business customers to help them make confident buying decisions."
To celebrate the re-launch of its site, GreenPoma.com will give the first 100 customers who place an order a high-efficiency, 40 watt Halogen T-Line light bulb from Philips Lighting. This is a state-of-the-art, energy-efficient incandescent light bulb equivalent to a 60 watt traditional bulb with a retail value of $7.49. Enter the word "greenlight" in the Customer Notes section while checking out to receive this free gift. To browse GreenPoma's selection of energy-efficient light bulbs, please visit http://www.GreenPoma.com.
About GreenPoma
GreenPoma was founded on the desire to inform and educate consumers on greener lighting options. Offering a variety of energy-efficient lighting alternatives for sale on its website, the company leads the way in the green revolution with hard-to-find bulbs from leading manufacturers, recyclable packaging, reports on dollars and carbon dioxide emissions saved, plus simple, savvy advice generated through its unique Bulb Finder tool.
###