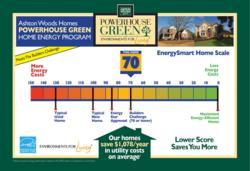 Atlanta, GA (PRWEB) May 03, 2011
Ashton Woods Homes, a premier builder of eco-friendly and energy-efficient new homes today announced the release of their Home Energy Rating Scale, in accordance with the Department of Energy.
Headquartered in Atlanta, Georgia, Ashton Woods builds high-performance homes for sale in Atlanta, Austin, Dallas, Houston, Orlando, Phoenix, Tampa and Raleigh in growth communities, close to jobs, shopping and transportation.
If homes had a miles-per-gallon (MPG) rating, Ashton Woods would be the eco-friendly leader in building "fuel-efficient" homes. Leveraging a long history of building energy-efficient homes in all of its communities, the national builder has incorporated the EnergySmart Home Scale (E-Scale), developed by the U.S. Department of Energy (DOE), in the marketing and sales information of their new homes.
The E-Scale, based on Residential Energy Services Network's (RESNET) Home Energy Rating (HERS) Index, involves the analysis of a home's construction plans and includes onsite inspections. According to RESNET, since a rating quantifies the energy performance of a home, the HERS Index provides an easily understandable means to compare the relative energy efficiency of different homes.
The HERS Index is a scoring system based on the 2006 International Energy Conservation Code. The lower a home's HERS Index, the more energy efficient it is.
When it comes to scoring low on the E-Scale, Ashton Woods has an average score of 70. This means, when compared to other new homes, Ashton Woods' homes are 30% more energy-efficient. When compared to used homes, a new home from Ashton Woods is as much as 46% more efficient in its energy use. This can save homeowners as much as $1,078.00 each year.
While the E-Scale from the Department of Energy may be new to consumers, building energy-efficient, eco-friendly homes is old hat for Ashton Woods: they've been doing it for 10 years with their Powerhouse Green Homes.
"It's just the right way to build a home," says Ralph Farrell, VP Operations at Ashton Woods Homes. "By designing a livable home first and then adding energy-efficiency, we develop a comfortable and environmentally-sound home," added Mr. Farrell.
But, E-Scale is only a measurement tool. Homes need to incorporate energy-efficient attributes like Energy Star, or Environments For Living, as a general baseline. According to Sam Rashkin, National Director Energy Star for Homes, even just a typical Energy Star-compliant home saves 20-30% in energy costs when compared to homes built as recently as 2009. "As a compliment to Energy Star, the E-Scale is a great thing," added Mr. Rashkin and homes built by Ashton Woods are all Energy Star-compliant.
Environments For Living (EFL) brings yet another whole layer of efficiency to an Ashton Woods home. Homes built under the Environments For Living® program are energy-efficient homes that have been constructed using the principles and the discipline of looking at a house as an integrated system of systems that all work together. Things like durability, water-efficiency, indoor environmental quality and energy-efficiency are all part of EFL's advanced building techniques, which require a lot more effort on the part of homebuilders, like Ashton Woods. "All these things create a quality product," says Mr. Rashkin.
Ashton Woods is a strong advocate of quality products and energy-efficiency programs, like EFL and Mr. Farrell states, "It's a big deal to have a healthier, well-balanced, clean home and Environments For Living has really helped." And it's created a demand for homes built by Ashton Woods, who, last month, made the cover of Big Builder magazine, partly as a testament to its ability to deliver ongoing value to homeowners through continued energy-efficiency savings.
"Ultimately, new homeowners could use the savings from reduced energy costs to pay down their mortgage sooner, which is an attractive option for many buyers today," stated Tad Serbin, Senior VP, Sales & Marketing. With this idea in mind, Ashton Woods has created an energy performance calculator using the E-Scale to help new homebuyers understand the impact of savings from living in an energy-efficient home.
The energy performance calculator is located at http://www.ashtonwoods.com/escale and can help individuals determine the amount of yearly savings they could realize.
To learn more about E-Scale: http://www1.eere.energy.gov/buildings/challenge/energysmart.html
To learn more about the HERS Index: http://www.resnet.us/home-energy-ratings
To learn more about Energy Star: http://www.energystar.gov/
To learn more about Environments For Living: http://www.environmentsforliving.com
About Ashton Woods Homes
Ashton Woods Homes is a subsidiary of the Great Gulf Group, a fully-integrated collection of companies that spans the entire real estate spectrum in North America. From land acquisition and development to the design and construction of master planned communities. For more than 40 years, Ashton Woods has built a solid reputation for building comfortable, energy-efficient, high-performance new homes and is honored with the most coveted local, regional and national awards.
Visit http://www.ashtonwoodshomes.com for more information.
###