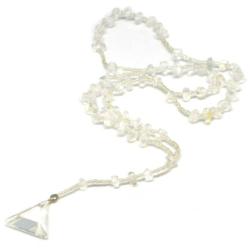 Los Angeles, CA (PRWEB) November 13, 2012
Energy Muse is sharing John of God's amazing healing energy with its loyal customers in the form of exclusive sacred crystal pieces. Guided by faith and energy, John of God performs healing for thousands of people on a weekly basis. He works free of charge and never turns anyone away. His spiritual healing center is called the Casa de Dom Inacio de Layola in Abadiania, Brazil, which stands on the biggest crystal deposit in the world. From disappearing tumors to restored vision, John of God has performed countless medical miracles, with his rates of success stunning even scholars and skeptics. He has served as a medium/channel for 53 years and counting, for over 30 spirit entities who work through him to perform healings.
Energy Muse has a special supply of 25 Sacred Amethyst Rosaries and 10 Sacred Quartz Crystal Necklaces, which cannot be purchased anywhere else except John of God's healing. These pieces were all hand-delivered and strongly energized for protection, healing, and positive energy from John of God's spiritual healing center in Brazil.
For more information, customers can visit:
http://www.energymuse.com/store/sacred-amethyst-rosary.html
http://www.energymuse.com/store/what-s-new/sacred-light-amethyst-rosary.html
http://www.energymuse.com/store/sacred-quartz-crystal-necklace.html
About Energy Muse:
Energy Muse is the leader in conscious wellness energy, providing tools of empowerment, inspiration and hope. The company, based in Southern California, was founded in 2000 by native Californians Heather Askinosie and Timmi Jandro, best girlfriends for over 35 years. Seeking to educate and reconnect the world to the ancient wisdom and healing properties of crystals, each piece of jewelry combines energy and intention which create a desired outcome. Energy Muse transcends what one might think of jewelry and has instead become a lifestyle of wearable energy. For more information about Energy Muse Jewelry visit http://www.energymuse.com