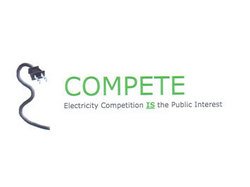 Washington, DC (PRWEB) February 4, 2010
In a clear demonstration of the widely diverse support for competitive electricity markets across the country, the COMPETE Coalition – a competitive electricity advocacy organization – announced it has surpassed the 400-member mark. Electricity customers, suppliers, generators, transmission providers, trade associations, environmental organizations and economic development corporations make COMPETE's membership roster one of the most diverse of its kind. COMPETE's membership interests reveal a broad recognition of the economic and environmental benefits provided by competition in organized regional electricity markets.
Founded in 2005, COMPETE offers electricity consumers and innovative service providers a forum in support of the competition and consumer choice in electricity that they value. The coalition experienced a 43 percent increase in membership in 2009. COMPETE's growing membership demonstrably shows that competition offers the best path to achieve energy policy goals in a manner that supports both the economy and environment.
"COMPETE continues to meet the needs of companies and organizations that understand how competitive markets foster the innovation and technology development necessary to meet 21st century energy challenges, address climate change, and provide lower-cost power to consumers," said Joel Malina, COMPETE's Executive Director.
Nearly a quarter of all membership are businesses and commercial and industrial power customers who seek to maintain the economic and environmental benefits they derive from their ability to shop for power suppliers in a fair and open competitive marketplace.
The most recent customer member is WinCo Foods LLC, an employee-owned supermarket chain with over 70 stores on the West Coast. WinCo joins other customer members including 7-11, CVS/Pharmacy, Kohl's, Lowe's, Macy's, Office Max, PetSmart, RadioShack, Safeway, Staples, Target, Wal-Mart, Big Lots, Boston Market, JC Penny, and Wendy's, to name only a few among the major brand retailers and restaurants supporting COMPETE's competitive market advocacy. Other customer members include religious and educational institutions, and state government power procurement agencies.
"One of the key cornerstones of our greenhouse gas reduction and sustainability initiatives is the benefits we receive in competitive power markets. We could not be a pioneer or a leader in this area without customer choice for energy supplies. Competitive energy markets are critical to our business," said George Waidelich, Vice President, Energy Operations, for Safeway, a commercial food and drug retailer with 1,730 stores across the U.S. and Canada.
Renewable energy providers and innovative energy service companies make up the fastest-growing sector of COMPETE's membership. These coalition members are promoting innovative technologies and services in the areas of demand response, smart meter and smart grid technologies, and energy storage solutions, while also leading the charge in developing new sources of clean and renewable energy.
One example of how these innovators embrace competitive electricity markets is Beacon Power and its flywheel-based energy storage technology. "Our business model is based on these open markets. Our CEO likes to say we're the poster child for the benefits of – and the need for – competitive markets," said Judith Judson, Beacon Power Director of Regulatory and Market Affairs.
Energy policy decisions at the national and state level must be made with a long-term focus on how to best foster innovation to meet national energy needs, and this is best accomplished with competition to break down monopoly barriers to new technology and services.
The COMPETE coalition represents more than 400 electricity stakeholders, employing nearly seven million American workers, including customers, suppliers, generators, transmission owners, trade association, environmental organizations and economic development corporations - all of whom support well-structured competitive electricity markets for the benefit of consumers. For more information, please visit http://www.competecoalition.com.
###