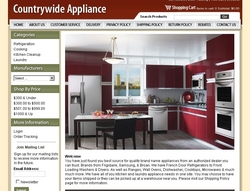 At CountrywideAppliance, you don't pay more, you just get more
Collinsville, IL (PRWEB) February 12, 2009
Owners Dale Schmalz and Terry Giger announce the opening of their online store, CountrywideAppliance, designed to better serve an expanding national customer base with the extensive selection of appliances and broad expertise in product selection and information shoppers are seeking.
The CountrywideAppliance lineup includes a complete line of Frigidaire appliances, Samsung appliances, and Broan range hoods, featuring a wide selection of Energy star products. Visitors to the store can expect appliances with the latest features and innovations including many that carry the "green" Energy Star certification.
"At CountrywideAppliance, you don't pay more, you just get more," says Schmalz. "We specialize in products for customers building a new home or looking to remodel. Our prices are very competitive, especially with the big box stores. Our online store manager, Ryan Morton has over 19 years of appliance sales experience, so when customers need help making a decision we actually have someone available during regular business hours that is capable of answering any question."
Products are shipped directly from our distributor's warehouses, located throughout the United States, including Groveport, OH, Philadelphia, PA, Morrisville, NC, Rogers, MN, Grand Prairie, TX, Milwaukee, WI, and Bridgeton, MO. Customers living close to any of these locations may save shipping costs by picking up their product in person.
"At the online store, we remain committed to doing the right thing by giving our customers quality products at reasonable prices while doing our part to help the environment," says Morton. "Unlike the big box stores, we only sell appliances, so our sole commitment is getting that right."
The Energy Star symbol on many products indicates that the product has met EPA standards for efficiency. Energy efficient appliances can have positive implications for both the consumer, in reduced energy bills, and the environment. Offering "greener" products is the latest innovation promoted by CountrywideAppliance.
For more information on Frigidaire appliances, Samsung appliances, or Energy Star products, visit CountrywideAppliance.com.
About Countrywide Appliances:
Partners Terry Giger and Dale Schmalz have over 40 years' combined experience in bringing quality, affordable, and innovative appliances to customers. Countrywide Appliance carries Frigidaire and Samsung appliances available in many models and colors with features to suit a variety of different needs.
The appliance store has maintained a local presence since 1989, when two brothers opened the doors to their first appliance store, with the mission of helping their community by offering appliances at affordable prices. Since then, they have doubled their locations and recently have added online access to reach a wider national audience. The staff offers more than 20 years of experience helping customers find quality and affordable appliances.
###