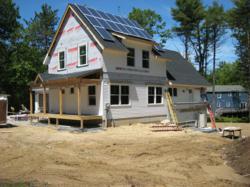 The video shows homeowners how functional and efficient a zero energy, zero cost home can be without sacrificing design or comfort.
(PRWEB) July 19, 2012
With the introduction of Maine's first Net Zero 100% energy efficient homes, a new YouTube video features Keiser's beautifully constructed modular homes in the Brackett Estates community of Wells, ME. The video, shown here http://www.youtube.com/watch?v=S8NqlhzTGNg, shows homeowners how functional and efficient a zero energy, zero cost home can be without sacrificing design or comfort. As a modular builder, Keiser constructs each home or commercial building in its state of the art, climate-controlled facility- giving owners and developers peace of mind that building will not be subject to weather or site conditions and drastically shortening the length of time it takes to build.
Keiser Industries of Oxford, ME; Futuro, Inc. of Portsmouth, NH; and Kaplan Thompson Architects of Portland, ME have partnered to design and build the first of 26 energy efficient homes for the Brackett Estates community.
The new homes feature exceptional energy efficiency with Keiser's special home design, including super-insulated construction, photovoltaic solar panels, solar hot water, triple-glazed windows, low-flow showerheads and more.
Keiser rolled out their line of Modular Zero home products two years ago. At the same time, interest in green energy homes has increased dramatically. The result is a cutting-edge new home community in a desirable area at an affordable price for homeowners who are interested in saving electricity and cutting their energy costs.
A variety of configurations and floor plans are available for interested homeowners. The first completed home is a two-story Cape-style featuring 1,750 square feet of living space with three bedrooms and two-and-a-half baths. Brackett Estates is also located near downtown shopping and recreation, and one mile from Old Marsh Golf Club.
Interested home buyers should contact Abigail Douris at 207.252.1944 or visit http://www.brackettestates.com for more information.
About Keiser
Keiser is a national leader in modular construction, setting new standards in quality and value for homebuilding and for multi-family and commercial development. Learn more about Keiser: http://www.keisermaine.com. Keiser is a division of R.J. Finlay & Co., a New Hampshire-based holding company of diverse businesses and investments with a central focus on real estate. For more information, please visit http://www.rjfinlay.com.