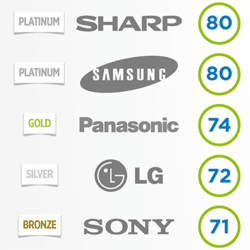 It may be cheaper to buy a state of the art new LED TV than to keep an old hog.
Santa Monica, CA (PRWEB) October 04, 2012
Wondering what is the best new TV to buy? Look no further than Enervee's latest report "How Do the Top TV Brands Rank on Energy Cost" which compares the energy efficiency of over 400 TVs from all of the top brands. Samsung and Sharp share the title of energy efficiency leader with both receiving the "Platinum" award based on having the highest average Enervee Score of 80 (out of 100) across all of their televisions. The "Gold" award was given to Panasonic with an Enervee Score of 74 and the "Silver" award given to LG with an Enervee Score of 72.
Besides ranking the top brands, Enervee also shows how purchase price might not be the best way to pick a TV. A comparison of a Samsung 46" LED TV and a Sceptre 46" LCD TV highlights the potential to save $365 on electricity costs over 5 years by picking the Samsung model. Even though the purchase price of the Samsung TV is more expensive than the Sceptre TV, the Samsung TV provides more than a hundred dollars in overall savings. It turns out that high quality components are a great investment.
Surprisingly, on average, Plasma TVs are no longer the biggest energy hog as LCDs tend to use slightly more power for their size. Another interesting takeaway is that LED TVs tend to be 20-25% more energy efficient than a similar sized LCD or Plasma TV. "Based on energy costs, it may be cheaper to buy a state of the art new LED TV than keep an old TV that is an energy hog," said Enervee CEO Matthias Kurwig.
"Score my TV"
To figure out whether it is the right time to buy a new TV, Enervee has released a "Score my TV" app (enervee.com/mytv) that scores the energy efficiency of TVs dating all the way back to the 1990s. By answering three basic questions on the type, size, and age of a TV, it is scored and compared versus the average score of all TVs on the market. Enervee will provide the Enervee Score for all kitchen appliances, consumer electronics, computer products and heating & cooling devices. It plans to release an energy efficiency scoring app for refrigerators and dishwashers next.
About Enervee
Enervee™ is the world's first personal energy efficiency scoring platform. The Enervee™ Score makes it easy for consumers, businesses and governments to purchase appliances and electronics that save energy, save money and help our planet. Enervee was founded by two friends, Matthias Kurwig and Don Epperson, in the summer of 2010 while both were planning to buy energy efficient appliances for their new homes. That simple task turned out to be very challenging as it required searching through 18 different data sources to be able to truly compare the energy efficiency of TVs, Refrigerators, Washing Machines, and other household electronics and appliances. This began a quest to create a platform which could automatically rank products and people based on their energy efficiency - the outcome of which was the Enervee™ Score. Enervee has a simple mission - to make it easier for you to find the products that save energy, save you money, and help the planet.