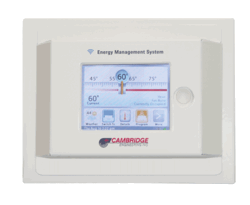 St. Louis, Missouri (PRWEB) November 16, 2012
Cambridge Engineering, Inc. now offers Wi-Fi EMS, an easy, low cost way to provide two-way remote communication for real time monitoring and control of direct gas-fired industrial space heating and make-up air heating systems. The Cambridge internet enabled Energy Management System (EMS) is perfect for heating warehouses, distribution centers and other industrial buildings where a thermostat is not enough and a full-scale automated building management system is too complex and expensive.
The Cambridge Wi-Fi Energy Management System saves energy and is an ideal temperature control system for warehouse energy retrofits and industrial LEED/green building projects. Intelligent night setback recovery, flexible 7-day programming, 365-day scheduling, summer ventilation mode and remote computer monitoring on a web-based EMS portal saves energy and operating costs. Detailed information on the settings and operation of each direct gas-fired heater is available through the Energy Management System portal. Valuable information is provided for both building energy management and heating equipment maintenance. Email alerts help avoid costly downtime and unplanned service calls.
Cambridge Wi-Fi EMS is simple to install and program, reducing installation costs. Features include color touch screen display, secure wireless remote internet access and live internet weather feed. The Wi-Fi EMS interface board is factory installed and pre-tested in the Cambridge heater. Wi-Fi EMS retrofit kits are available for existing Cambridge direct-gas fired heating equipment in the field.
Cambridge also provides cost-effective methods for interfacing their industrial space heating and make-up air heating equipment with third-party building management systems that use the most popular communication protocols, including BACnet, LonWorks, Modbus and widely used integration standards.
About Cambridge Engineering, Inc:
Established in 1963, Cambridge is a manufacturing company with strong R&D, engineering and customer oriented problem solving capabilities. Energy efficient Genuine Cambridge space heaters, infrared radiant heaters, make-up air units and Wi-Fi EMS save energy, reduce operating costs, improve indoor air quality and reduce CO2 emissions for a wide variety of commercial and industrial facilities. Cambridge Engineering is a U.S. Green Building Council (USGBC) member and ENERGY STAR Partner.
For more information, visit our website http://www.cambridge-eng.com or call 800-899-1989