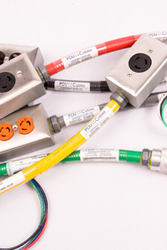 We're excited to be one of the first companies to offer Packet Power's technology
Orlando, FL (PRWEB) October 5, 2009
Packet Power and PDU Cables announced today at AFCOM's Data Center World® 2009, that they have partnered to make advanced power monitoring easy and affordable for PDU Cable's customers. Through the agreement PDU Cables, a leading manufacturer and supplier of power-distribution cable assemblies, will incorporate Packet Power's innovative wireless monitoring modules into its power cable assemblies and adapter cables. In addition, PDU Cables will offer Packet Power energy monitoring solutions to its reseller partners.
"We're excited to be one of the first companies to offer Packet Power's technology," said Duncan Lee, chief executive officer for PDU Cables. "They have a solution that leap-frogs past many of the traditional barriers to power consumption monitoring, such as high costs, cumbersome installation and data center downtime. Their 'plug-and-play' solution has to be seen to be believed."
Energy is increasingly expensive for web colocation providers and data centers; the number of devices being used in each facility, the power consumed on a device, and the cost of the power itself are all increasing. Packet Power's solution provides the insight companies need to reduce their data center power consumption. This technology helps companies monitor the power flowing through the data center in detail and analyzes the resulting information. By also tracking temperature, hot spots that can pose risks to IT equipment can be easily spotted.
Packet Power embeds its solution into the one element all electrical devices have in common - a power cord. The system can be installed by simply replacing the current power cable with a Packet Power smart cable. The smart cables communicate power consumption and temperature information wirelessly, eliminating the need to add network connections to collect power data, to further simplifying installation. Data centers operators can monitor device-level cables as well as cables that support entire racks of equipment in whatever combination best suits their needs.
"PDU Cables has built a stellar reputation as an innovator and provider of top quality products with quick-turn delivery," said Steve VanTassel, Packet Power chief executive officer. "By adding wireless power monitoring as an option on their cables, they offer their customers a low-cost way to accurately track power that requires no downtime, reduces the number of system interconnections and helps keep the amount of clutter under raised floors to an absolute minimum. We are delighted to have them as a partner."
Known for their industry-leading innovation, PDU Cables' partnership with Packet Power stays aligned with the company's vision. PDU Cables offers quick turn power cable manufacturing and delivery, prompt customer service, and is the sole supplier of the Air Guard Cable Seal product line. "We have been told by our customers that our high quality products and our experienced PDU Cables team providing unsurpassed product knowledge and excellent customer service, is what keeps them coming back" Lee stated.
ABOUT PDU CABLES
PDU Cables (http://www.pducables.com) is the leading manufacturer and supplier of power-distribution cable assemblies in North America used by more than 5,000 data centers. It is the first independent cable-assembly company to introduce colored conduit, to acquire UL Listing, and to offer the Power Cable and Equipment Configurator™ to document connections and specify the correct under floor power cables. Electrical contractors install PDU Cables' factory-fabricated UL-listed cable assemblies to save time and labor, and reduce overall project costs.
ABOUT PACKET POWER
Packet Power develops power consumption software and hardware that provides the simplest way for data centers to capture real-time, detailed electrical power usage information at any combination of individual device or rack level. Packet Power's innovative smart power cables install quickly without disruption to a facility's power distribution infrastructure. The information they capture is transmitted wirelessly for analysis and then accessed via reports or the Internet. For more information visit http://www.packet-power.com.
###