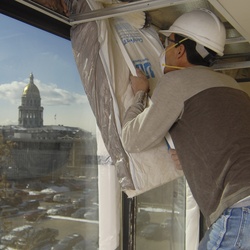 Energy efficiency measures are easy-to-install, have a fast return on investment, and make more comfortable buildings for the occupants. Our new energy-efficient office space will demonstrate how easy it is for buildings to take this step.
DENVER (PRWEB) February 1, 2008
The insulation, donated by Johns Manville, will be installed beginning today at the Governor's Energy Office, 1580 Logan Street, Suite OL100 in Denver, a property owned by Jordon Perlmutter, Inc. The insulation retrofit, installed by Allied Insulation of Denver, will maximize GEO's energy efficiency and improve its overall environmental performance, while reducing the office's overall operating costs and serving as a model for energy efficiency in commercial buildings across Colorado.
Johns Manville is donating its Formaldehyde-free(TM) fiber glass building insulation, including Spider(TM) spray-in insulation and ComfortTherm(R) batts. Johns Manville's building science team is providing technical expertise to GEO to ensure proper product selection and installation for the space, resulting in maximum energy efficiency.
All of Johns Manville's building insulation is made without added formaldehyde to improve indoor air quality for building occupants and installers. JM's Formaldehyde-free(TM) fiber glass building insulation consists of an average of 25 percent recycled content, 80 percent of which is post-consumer recycled glass from curbside recycling programs. Spider, which will be installed into GEO's existing wall structures, provides a superior insulation barrier for maximum energy efficiency, as it fills all gaps and voids in the wall cavity and reaches R-values of R-15 in a 2x4 wall and R-23 in a 2X6 wall. ComfortTherm, which will be installed in the office ceiling, will provide an R-value of R-19.
"GEO is committed to energy efficiency measures in the built environment, because buildings consume nearly 76 percent of all power plant generated electricity, and are responsible for nearly half of our greenhouse gas emissions," said Tom Plant, GEO's director. "Energy efficiency measures are easy-to-install, have a fast return on investment, and make more comfortable buildings for the occupants. Our new energy-efficient office space will demonstrate how easy it is for buildings to take this step."
In addition to the insulation, there are several other energy efficiency measures incorporated into GEO's office space including: enhanced daylighting, low-VOC paints, sealants and caulking, water efficient toilets and urinals from Denver Water, occupancy sensors, ENERGY STAR appliances, and improved heating and cooling controls.
The State has more than 500 active real estate leases, 149 of which will expire in the next 12 months. This project demonstrates that the State can influence energy and water efficiency measures and the development of sustainable built environments in both leased and owned space. Further, GEO's Greening Government program will create guidelines for the State's leased space to achieve these sustainability goals.
According to the U.S. Department of Energy (DOE), office building energy bills are the highest of any commercial building type. DOE also reports that in addition to cutting operating costs, energy-smart office buildings can enhance the comfort and performance of workers and boost productivity. Many of the same measures that improve a building's energy performance also make it a more comfortable place to work.
"A well-insulated building is essential to reducing the amount of energy needed to heat buildings in the winter and cool them in the summer," said Mike Fay, innovation leader for Johns Manville. "By making buildings more energy-efficient, we're also making them less costly to operate and more comfortable for workers, and we're helping to improve the environment and reduce demand on our energy supply. We're proud to help GEO take a leadership role in promoting energy efficiency and conservation in Colorado and beyond."
About Johns Manville
Johns Manville, a Berkshire Hathaway company, is a leading manufacturer and marketer of premium-quality building and specialty products. In business since 1858, the Denver-based company has sales in excess of $2 billion and holds leadership positions in all of the key markets that it serves. Johns Manville employs about 7,800 people and operates 41 manufacturing facilities in North America, Europe and China. Additional information can be found at http://www.specjm.com.
The Governor's Energy Office (GEO)
The mission of the Governor's Energy Office is to lead Colorado to a New Energy Economy by advancing energy efficiency, renewable and clean energy resources. GEO will work with communities, utilities, private and public organizations, and individuals to promote renewable energy such as wind, solar, geothermal, and energy efficiency technologies in commercial, public, and residential buildings. The New Energy Economy will benefit Colorado with jobs and by protecting Colorado's environment.