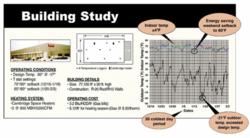 There has never been a better time to upgrade or replace an inefficient industrial HVAC system.
St. Louis, Missouri (PRWEB) September 19, 2012
Cambridge Engineering, an ENERGY STAR Partner, offers an Energy Retrofit Building Study Program that is unmatched in the industry. This service is provided to the installing contractor or building owner to verify the performance of a Genuine Cambridge heating system after it is installed in their warehouse, distribution center or manufacturing facility as part of an energy retrofit project. Temperature loggers document balanced temperatures throughout the building. Utility bills confirm the energy savings. Annual dollar savings and the environmental impact of reduced carbon dioxide (CO2) emissions can be determined. Examples of actual energy savings for energy retrofit projects are shown on the Cambridge website for industrial facilities that have upgraded to a more energy efficient Cambridge heating system confirm significant dollar savings and reductions in CO2 plant emissions.
Cambridge also conducts onsite building studies for qualified facilities using other types of industrial space heating systems where an energy retrofit project is being considered. These buildings are compared to similar large buildings using an energy efficient direct-fired Blow-Thru space heating system. Comparable building studies, along with heat load calculations and in some cases energy modeling are used to predict the energy savings from installing a more efficient Genuine Cambridge heating system.Examples on the Cambridge website for energy retrofit projects show the predicted energy savings and positive environmental impact if buildings from 50,000 to 1.3 million square feet replace their current heating system with higher efficiency Cambridge space heating equipment.
"There has never been a better time to upgrade or replace an inefficient industrial HVAC system," said Ken Williams Director of Marketing for Cambridge Engineering.
When it comes to industrial space heating equipment, any indirect gas-fired boiler, air turnover or unit heater system more than 10 years old and 80% or less efficient is an energy retrofit project waiting to happen. Best of all, the building energy retrofit project can qualify for significant tax incentives and local utility rebates if the project is completed before the end of 2013 when the current Federal EPAct tax benefits are set to expire.
About Cambridge Engineering:
Established in 1963, Cambridge is a manufacturing company with strong R&D, engineering and customer oriented problem solving capabilities. Energy efficient Genuine Cambridge space heaters, infrared radiant heaters and make-up air equipment reduce installation costs, operating costs, improve indoor air quality and reduce CO2 emissions for a wide variety of commercial and industrial facilities. Cambridge Engineering is a U.S. Green Building Council (USGBC) member and ENERGY STAR Partner.
For more information, visit http://www.cambridge-eng.com or call 800-899-1989