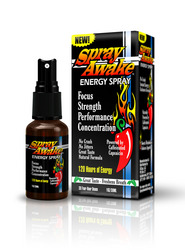 Spray Awake is the world's first caffeinated capsaicin energy spray, and it works beyond anything else out there.
Albany, NY (PRWEB) November 6, 2009
SiCap LLC, makers of the popular Sinus Buster capsaicin nasal spray, has announced a brand new capsaicin based energy spray called "Spray Awake". According to the manufacturer, Spray Awake delivers caffeine in small sustained amounts to reap positive results without the unwanted side effects associated with energy drinks, shots and pills.
"Oral sprays are the most efficient way to deliver sustained energy without jitters or a crash. The key is to ingest caffeine in small sustained doses under the tongue so it doesn't get broken down in the body. This exclusive Spray Awake formula provides a natural time release element for caffeine delivery", says Scott Latella, Director of Sales for SiCap, LLC.
All popular energy products have one thing in common: Caffeine. Although people think of caffeine as a pharmaceutical chemical, it's actually derived from a variety of plant sources. Caffeine is a proven ingredient that's excellent for boosting energy and mental alertness, but it can also cause jitters and crashing when delivered in traditional ways. Since pills, powders and drinks deliver large amounts of caffeine through oral ingestion; the caffeine is broken down quickly in the body's organs, resulting in a fast energy rush - often followed by "the jitters" and a crash. By delivering the caffeine in an atomized spray, Spray Awake provides fast sustained mental energy.
Spray Awake uses the powerful extract Capsaicin to deliver sustained doses of caffeine in a sublingual, (under the tongue) dose. Capsaicin is derived from hot peppers and it's known to create super-permeability through the mucous membranes. When combined with caffeine and other herbal extracts, capsaicin creates an efficient time released delivery of ingredients, providing sustained energy.
"Although the capsaicin in Spray Awake is derived from peppers, it's not spicy or overwhelming. This natural formula tastes like mint. The capsaicin actually soothes your mouth and throat while also quenching your thirst. It's also great for dry and sore throats. There's nothing else like Spray Awake and it really tastes great", says Wayne Perry, Director of Innovations for SiCap, LLC.
While energy drinks and shots can take up to 15 minutes to begin working, sublingual dosing with a spray can take less than a minute. According to the manufacturer, a sublingual dose uses small amounts of active ingredients to produce big effects without being broken down in the body like drinks and pills. Because the dose of caffeine and other ingredients is so small, users don't face the usual side effects and they don't build up a resistance to the caffeine.
For more information, visit http://www.SprayAwakeEnergy.com.
###