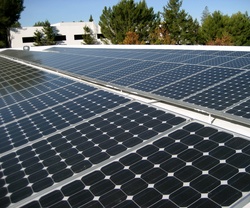 We recycle good quantities of packing material every month, as well as office paper, cans, bottles and other materials. There is very little we throw away
SANTA CLARA, Calif. (PRWEB) January 14, 2008
In addition to the new solar system, the company recently covered their rooftop with an Energy Star(R) rated paint known as "Cool Roof." The bright white, elastomeric, paint is designed to have a minimum solar reflectance and emmittance rating of at least 80%. The end result is a rooftop capable of reflecting 55% more of the sun's rays than a standard rooftop, reducing heat absorption and allowing a substantial reduction in air conditioning usage in the building. This was a significant change for the company because, at 75,000kWh annual consumption, HVAC (Heating, Ventilation, Air Conditioning) is currently their number one energy load. According to an Environmental Protection Agency report on heat islanding effects, "'Cool Roofs' save residents and building owners 20-70% in annual cooling energy use."
Along with the new solar and "Cool Roof" installations, the company has taken numerous other actions to conserve energy and natural resources. Approximately 70% of their Bay Area deliveries are now made in a Toyota Prius hybrid vehicle. "We realized that many of our local deliveries were simply 3 or 4 boxes and could easily be done in a Prius as opposed to a delivery van," said Callinan. The Ford Econoline vans that SVM had been using as its primary delivery vehicles were averaging 17mpg highway and 14mpg city. In contrast, at 55mpg city, the Prius only needs to get refueled once for every three times the vans are refueled. "Today, we rarely use the vans and we've seen considerable savings in our monthly gas bill," said Callinan.
Like most companies, SVM has fluorescent lights throughout their building, each lighting fixture containing 3 bulbs. As a test, SVM removed 1 bulb from each fixture to determine if it would impact lighting in the building. The employees responded that it made no discernible difference. SVM went on to remove one bulb from nearly all the fixtures in the building -- about 200 in all. This simple de-lamping process reduced SVM's annual energy consumption by approximately 21,000kWh, saving the company $1,500 dollars in annual energy costs.
During the last several years, SVM has made a concerted effort to move its employees away from power hungry desktop computers. Most desktop computers have a 65% power supply efficiency, which translates to an energy waste of 35% for the user. The energy efficient laptops SVM's employees now use have a minimum power supply rating of 80%. Every move of this kind has led to an incremental decrease in the companies overall power consumption.
A recent energy use survey performed by their local power company, Silicon Valley Power, shows SVM as far ahead of similar organizations in Santa Clara when it comes to energy efficiency. When measuring the kilowatt hours per square foot per year in businesses throughout Santa Clara -- SVM has anywhere from 30 - 60% lower energy usage than other benchmark organizations, including other offices, schools and retail businesses in the area.
SVM is also a member of Sustainable Silicon Valley (SSV), a collaboration of valley businesses, government and non-governmental organizations that are identifying and addressing environmental issues in the valley. SSV is engaging valley organizations to work toward a goal of reducing regional carbon dioxide emissions 20% below 1990 levels, and to do it by 2010. The SSV approach to reaching this goal is to facilitate strategies to reduce CO2 emissions through increased energy and fuel efficiency and through the use of renewable sources of energy. Callinan indicated that SVM's approximate CO2 contribution was 144,000 lbs in 2007 and is expected to be 93,225 lbs in 2008 - a 35% decrease from year to year. If SVM reaches it's expected CO2 emissions levels for 2008, the company will be producing only 37% of the CO2 contribution of other small offices in its benchmark class.
In addition, recycling has been a big part of SVM's daily routine for many years. "We recycle good quantities of packing material every month, as well as office paper, cans, bottles and other materials. There is very little we throw away," said Callinan.
When asked what SVM will do next, Callinan said "The changes we're making are an ongoing process. We will continue to make incremental changes in every facet of our business. Every step we've taken so far has been good for the planet and has made good economic sense for the business. In the midst of these changes, our revenues and profits continue to grow."
Silicon Valley Microelectronics, Inc. (http://www.svmi.com) is a privately held distributor of silicon wafers and services to the semiconductor and solar industries. The company was established in 1990 by Patrick Callinan and has 35 employees. Patrick Callinan is also the founder and chairman of Silicon Valley Solar (http://www.sv-solar.com).