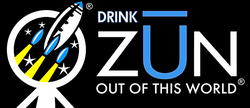 Boulder, CO (PRWEB) February 17, 2011
In light of recent media focus on energy drink health concerns, ZUN Energy Drink has issued a statement on the company's high quality and innovative Brain Boosting Energy® product line.
ZUN is a powerful, proprietary energy-plus drink that includes natural sugar and caffeine, along with co-enzyme Q10 & choline designed to promote instant and sustainable energy with improved mental focus. The drink also contains 500% DV of B12 and 100% DV of C, B6, and vitamin E. Packed in a one of a kind 'retro style' rocket bottle, ZUN is hard to miss and has been touted as the most unique packaging on the market today.
"ZUN is an up and coming innovator in the energy drink segment, with specific functional purpose and ingredients that clearly make ZUN a healthier alternative to that of many traditional energy blends. We take great pride in delivering the absolute best product both in taste and function and we continuously look for ways to improve and innovate for consumer benefit. ZUN contains a substantial amount of CoQ10, choline and multi-vitamins yet still has this amazing taste, making ZUN the most Incredibly Refreshing® Beverage in the Universe," stated Brian Stearns Founder and CEO of ZUN.
Since hitting the market, ZUN has received top taste test reviews and glowing testimonials from around the country. C-stores in the USA are now adding the crisp ZUN and ZUN LITE® energy drinks to their national coolers. ZUN LITE has same Incredibly Refreshing® taste as original ZUN with only 20 calories; featuring Blue Agave Nectar. ZUN is now on sale in over 2800 Midwest locations and growing fast.
About ZUN
ZUN is an Energy-Plus beverage that delivers instant and sustainable energy with added nutraceuticals for improved memory and focus. Out of this World®, Incredibly Refreshing® and Brain Boosting Energy® are registered Trademarks. Unique Rocket Bottle designed for carbonation is protected by US and International 'issued' patents. For more information, please visit: http://www.zunenergy.com or see the buzz at http://www.facebook.com/zunenergy.
###