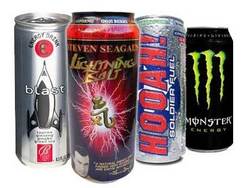 Frankly, they're nothing much more than caffeine in a can with a lot of sugar.
Saint Joseph, MO (PRWEB) September 27, 2007
It is clear that Americans are looking for a boost before they exercise. Peer into the trash can at any gym and you are bound to see empty cans of various "energy drinks." While energy drinks may be able to give a quick "pick me up" before a workout, they are not designed to be used in this manner. In fact, some American universities have banned the use of energy drinks before athletic practices and sporting events all together.
Liz Applegate, a sports nutritionist at the University of California at Davis, stated in an interview, "Frankly, they're nothing much more than caffeine in a can with a lot of sugar." She added, "Even though they're labeled 'energy drinks', they should not be consumed during exercise."
Loading up on sugar before a workout can lead to nausea and vomiting, as well as electrolyte imbalances. In order to provide a better solution for athletes and gym goers, Certigo Nutraceuticals has a "workout pill" in development (scheduled for fall 2007 release) that, when taken as prescribed, supplies the body with organic compounds designed to increase energy and focus as well as alleviate muscle fatigue during exercise.
According to Daniel O'Connor, Director of Product Development for Certigo Nutraceuticals, "The workout pill is being created to promote better fitness and exercise. It will not only give the user the exercise boost they are searching for in a smooth and safe manner, it will also provide more endurance and focus during exercise." He continued saying, "The more energy, endurance and focus you have during exercise, the better the results."
Workout pills may help those needing a boost have a better, more intense workout without the "pull me down" effects that sugar-loaded energy drinks give following exercise.
For additional information on the news that is the subject of this release, contact Joe Freudenthal or visit http://www.certigo.us.
Sources: http://archives.cnn.com/2001/HEALTH/diet.fitness/05/29/energy.drinks.02/
About Certigo Nutraceuticals:
Certigo Nutraceuticals is a US-based nutraceuticals company founded by health care and fitness professionals. Its manufacturing facility registered with the FDA is one of the first to receive the National Nutritional Food Association's (NNFA) Good Manufacturing Process (GMP) Seal of Approval.
Contact:
Joe Freudenthal, Director of Operations
Certigo Nutraceuticals
816-396-5556
http://www.certigo.us
# # #