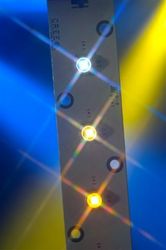 Chicago (Vocus) December 8, 2008
Committed to bringing electronic engineers the newest technologies first, leading multi-channel electronics distributor Newark, part of the global Premier Farnell Group, announces that Cree will be one of 31 top suppliers featured at the "Energy Efficiency & Lighting" global technical learning and networking event, held virtually at the Live EDGE EcoSphere on December 11, 2008 from 8am to midnight EST. Engineers and engineering students are invited learn about the same Cree technologies that were showcased at the Beijing Games at the online event.
Approximately 496,000 Cree XLamp® LEDs in red, green and blue were used last summer to illuminate the exterior of the Water Cube in Beijing. Modules of 8-16 LEDS were integrated into the steel structure of all four walls and the roof. Cree LEDs were also used on the exterior of the Bird's Nest, and helped to add drama to the opening and closing ceremonies. In addition to indoor and outdoor general illumination, Cree LEDs are used in portable lighting, retail display and electronic signage. A Cree design guide and its newest technology products are available for same-day shipping at http://www.newark.com/cree
Live EDGE--Electronic Design for the Global Environment--is the name of Premier Farnell's $100K design challenge. The distributor developed the EcoSphere community in support of its international competition and the global student and professional engineering community.
Throughout the Dec. 11th event, there will be presentations from suppliers followed by live chat discussions. Attendees will be able to ask questions, download technical information and network with colleagues. Free registration and a complete schedule of the December 11th event is available at http://www.live-edge.com/ecosphere.
Two additional EcoSphere events are scheduled: "Communications" in February '09 and the Live EDGE Awards Ceremony and Technical Conference in April '09.
High resolution images of the virtual EcoSphere can be found at: http://www.pinnaclemarcoms.com/PR_PICTURES/Premier_Farnell/EcoSphere.jpg
About Newark
Newark, part of the global Premier Farnell Group, and a leading multi-channel, high-service electronics distributor supporting millions of engineers and purchasing professionals across the Americas, is known for offering the broadest selection of components and test equipment from 440+ top manufacturers for design engineer and maintenance professionals. With multiple sales channels, customers do business with Newark through contact centers, local branch network, field sales force and a world-class website at http://www.newark.com.
Media contact:
Janice Fleisher
773.907.5941
###