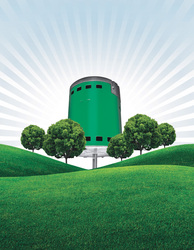 Evergreen IM gives homeowners the ability to simply replace the inefficient motor in their existing system with a high-efficiency ECM model.
Fort Wayne, IN (Vocus) August 28, 2009
Until recently, any homeowner wanting an energy-efficient heating/cooling system in their home had to purchase an entirely new system, an investment of thousands of dollars. The introduction of the Evergreen™ IM motor has given homeowners a new option. Rather than purchasing an entirely new heating/cooling system, a homeowner can opt to have the motor in their existing system replaced with an Evergreen motor at a fraction of the cost.
Like a compact-fluorescent replacement for a typical light bulb, Evergreen is the high-efficiency replacement for a standard blower motor.
How Your Furnace Works
Many homes have traditional "single-stage" heating and cooling (HVAC) systems that function in either "on" or "off" mode, resulting in a sudden blast of air followed by a period of inactivity. More sophisticated "two-stage" systems run continuously at a low setting and then switch to a higher setting when the thermostat dictates. Running continuously at a low setting keeps the home's air circulating and, thus, the temperature more even.
Two-stage systems incorporate a highly efficient motor called ECM (electronically commutated motor), which uses up to 74% fewer watts than a single-stage motor. This can save homeowners up to 25% on their home energy bills.
"Previously, the only option for consumers who wanted to improve their homes' energy efficiency was to purchase a completely new two-stage system," said Paul Selking, HVAC industry leader for Genteq. "Evergreen IM gives homeowners the ability to simply replace the inefficient motor in their existing system with a high-efficiency ECM model."
Evergreen benefits the homeowner in the following ways:

Uses less energy
Ramps up gently, eliminating uncomfortable temperature swings
Operates quietly, without noisy on/off cycles
Improves air flow, maximizing filtration systems and benefiting allergy sufferers
Balances temperatures and minimizes hot and cold spots
The Evergreen replacement motor can be installed quickly and easily into most HVAC systems. For more information about Evergreen IM, or to locate a Genteq contractor, visit GenteqComfort.
Evergreen is the world's first high-efficiency motor for replacing an existing blower motor in residential heating and cooling equipment. Evergreen is based on over 20 years of field-proven ECM technology made by Genteq. Genteq is a division of Regal Beloit (NYSE: RBC), a leading manufacturer of mechanical and electrical motion control and power generation products serving markets throughout the world. Headquartered in Beloit, Wis., Regal Beloit has manufacturing, sales, and service facilities throughout the United States, Canada, Mexico, Europe and Asia. For more information, visit the company's web site at JoinTheGeneration.
###