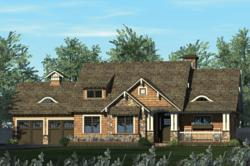 Portland, Oregon (PRWEB) November 21, 2012
Makers of exclusive online ENERY STAR ® collection of Energy Efficient House Plans, The House Designers, are fresh off their attendance to the 2012 Greenbuild International Conference and Expo. CEO Tammy Crosby and her team spent three days networking with the best and brightest minds in sustainable development and eco-friendly home design solutions and are excited to reveal their picks for the next big thing in green technology.
The world's largest conference and expo dedicated to green building, Greenbuild is an annual staple within the eco-conscious community. Exhibitors and thought leaders from some of the industry's most innovative companies use the space to debut the latest in green technology and ideas.
"Greenbuild is such a fantastic opportunity to learn about the greenest and most environmentally conscientious products available to builders and consumers getting ready to break ground on new home construction," said Tammy Crosby.
This year, The House Designers reveal their top five products to make any new or existing home more eco-friendly.
1. Benjamin Moore Aura paint
Aura is the first in Benjamin Moore's Green Promise line of paints. The eco-friendly paint and environmentally friendly coatings have ultra-low and in some cases zero VOCs—exceeding even the strictest industry standard. The House Designers love this product because the Color Lock technology in the paint creates richer, truer color for a great look at little cost to the environment.
2. Delta Single Setting Shower Head
Using revolutionary new H20kinetic technology, this shower head controls the speed, movement and droplet size of the water. The House Designers love this because it creates the feeling of more water, despite using less.
3. Lutron Electronics Insulating Honeycomb Shades
A single button can control all the shades in one room and the innovative air pockets trap heat to provide superior insulation for enhanced energy efficiency. The House Designers recommend this because it's perfect for any home, even existing ones because it requires no major construction or renovation to add energy efficiency to a home.
4. Andersen Windows/Honeywell VeriLock™ Sensors
A revolutionary new security system, VeriLock™ allows home owners to check whether or not the windows in their home are locked or unlocked, even from on the go with a smartphone or tablet. The House Designers love this product for its dual functionality of a great way to keep the family safe, and to help maximize energy efficiency by letting you know if a window is left open.
5. Marvin Windows Ultimate Double Hung Window
Double Hung Windows from Marvin are the perfect way to create a custom, eco-friendly solution that looks great and doesn't hurt your wallet. The House Designers are thrilled about this because with thousands of options available, these windows are versatile, beautiful and energy efficient.
Tammy also added, "Finding eco-friendly products that are as beautifully crafted as some of these new for 2012 products is something we're really excited about. Not only do we have a responsibility at The House Designers to offer the most eco-friendly house plans available, like with our exclusive ENERGY STAR® Energy Efficient House Plans, but finding sustainable and eco-conscious finishing touches are just as important."
About The House Designers:
The House Designers have been providing the dream home footprint to home buyers for over a decade. The expert design team work with only the best architects to create beautiful, functional plans that fit the taste and desired look for even the most disconcerting buyers. Complete with one-of-a-kind collections, dozens of architectural styles, and the only exclusive collection of ENERGY STAR® house plans available online, The House Designers are the only place to start to make your dream home a reality. To see what The House Designers can do to help plan your dream house, visit http://www.thehousedesigners.com.