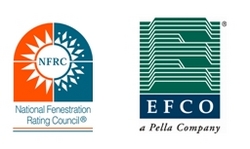 We've been working on the CMA program for several years, and after all the hard work and contentious debate it's very satisfying to have the first ratings in the field
New Orleans, LA (Vocus) April 15, 2010
The National Fenestration Rating Council (NFRC) and EFCO Corporation announced today that NFRC has issued the first Label Certificate under the new Component Modeling Approach (CMA) program to the Monett, Mo.-based commercial window and door company.
EFCO, a Pella Company, pulled the first certificate in March for 5600 2¼ Curtain Wall supplied to the Life Sciences Research Center under construction by the Utah Science Technology and Research Initiative (USTAR). The building, on the campus of Utah State University in Logan, will serve as an industry "magnet" designed to draw all-star research teams. EFCO's sales rep is ASC, Inc. and its customer is LCG Facades.
"We've been working on the CMA program for several years, and after all the hard work and contentious debate it's very satisfying to have the first ratings in the field," said NFRC CEO Jim Benney at the organization's Spring Membership Meeting.
"Because it's designed to inspire and promote innovation, the new building in Utah was the perfect project to inaugurate NFRC's new CMA program," said Joseph Holmes, EFCO's ACE. ''Even though we were the first and there are some small bugs yet to work out, the process went as smooth as possible.''
EFCO served as the Manufacturer Approved Calculation Entity (ACE) Organization. Manufacturer ACEs employ individuals who are trained and certified by NFRC, which allows manufacturers to serve their own needs more efficiently than contracting with an outside organization. Keystone Certifications, Inc. provided Inspection Agency services.
The Component Modeling Approach (CMA) Product Certification Program, which NFRC launched in January, enables whole-product energy performance ratings for commercial fenestration projects using data from the three primary components of fenestration: frames, spacers, and glazing. The CMA calculates the energy performance ratings according to NFRC 100 and 200, which are required by Utah's state energy code (IECC 2006).
In addition to providing a new way to generate certified performance ratings for fenestration products in commercial applications, architects, specifiers, and others can download the CMA Software Tool (CMA) and generate non-certified ratings in order to model different fenestration choices.
"CMA is a powerful tool that everyone involved in creating the built environment can use to make their jobs a little easier and simpler," Benney said. "We expect many companies to follow EFCO's lead and realize the benefits of the new approach in the months and years to come."
Interested parties can learn more about CMA on the NFRC Web site at http://www.nfrc.org .
About NFRC
NFRC is a non-profit organization that administers a voluntary, uniform rating, labeling, and certification system for the energy performance of windows, doors, curtain walls, skylights, and other fenestration products. Its members include manufacturers, suppliers, utilities, consumer groups, representatives from the building and code industries, scientific and educational organizations, and government agencies.
About EFCO Corporation
Headquartered in Monett, Mo., privately-held professionally-managed EFCO provides innovative customer solutions to satisfy commercial design challenges from historical replication to cutting-edge new construction. EFCO manufactures architectural windows, curtain walls, storefronts, and entry systems designed for commercial construction needs sold through independent sales representatives across the United States.
EFCO team members are dedicated to supporting the building community with products, services, and programs that promote outstanding commercial design.
Since its introduction of thermally-improved framing and accessories in the 1970s, energy-efficient products have helped set EFCO Corporation apart from other fenestration manufacturers. The company's environmental commitment continues to thrive through the use of technology to create energy-efficient solutions. EFCO is a proponent of energy conservation and recycling during manufacturing and is committed to environmental leadership by creating and implementing products and processes that will help support a "greener" world. For more information, visit efcocorp.com or call 417-235-3193.
###