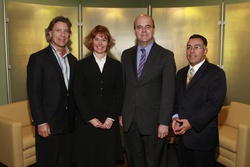 Boston-Power is an important company, both locally and on a national scale, as the demand for clean energy solutions continues to grow
WESTBOROUGH, Mass. (PRWEB) October 30, 2008
Highlighting this afternoon's festivities was a ribbon-cutting ceremony featuring Massachusetts Congressman Jim McGovern. Additional participants included New England Clean Energy Council Co-Chairman Bruce Anderson; George Ramirez, Deputy Director of Business Development, Massachusetts Executive Office of Housing and Economic Development; and Executive Director of Massachusetts Office of Business Development Patrick Cloney.
Boston-Power is among the most closely watched young companies in portable power and energy storage. Founded in 2005 by Dr. Christina Lampe-Onnerud, one of the world's foremost authorities in battery technology, the company has grown from initial operations based in the carriage house behind Dr. Lampe-Onnerud's home in Framingham, Mass., to a team of more than 500 located in Westborough and in mass manufacturing operations in Greater China. The company expects to continue its strong job growth, and is looking to base certain manufacturing operations in Massachusetts as well as elsewhere in the US and internationally.
"Boston-Power is an important company, both locally and on a national scale, as the demand for clean energy solutions continues to grow," said Congressman McGovern. "We congratulate the company on the expansion of its U.S. headquarters and welcome the green collar jobs and economic opportunities it brings. Boston-Power is a model for encouraging other innovative companies to do business in Massachusetts."
"The world is undergoing a fundamental shift to environmental sustainability – one that is ushering in a new generation of technologies that are substantially better for people and the environment alike," said Boston-Power's Dr. Lampe-Onnerud. "Portable power is a multibillion dollar market and lies at the heart of many of these advancements. Boston-Power is committed to developing products that make a difference. We're thankful for the tremendous demand we're receiving and appreciate the support from so many who've helped us to reach this stage. We're thrilled to be expanding our operations and are excited to embark upon the next stage of our aggressive growth."
Boston-Power's first product, Sonata, is the longest lasting, fastest charging, safest and most environmentally sustainable Lithium-ion battery. Initially targeting notebook computers and coming to market in early 2009 via a partnership with one of the world's top providers of notebook PCs, Sonata delivers like-new performance for three years versus current batteries that typically last less than half that time. An energy storage solution capable of benefitting a wide range of products – from consumer electronics to hybrid and electric vehicles – Sonata has earned first-of-its-kind certifications by top environmental groups in Europe and China.
With more than 40 patents filed, Boston-Power has received multiple, coveted awards for its leadership team, vision and technology. These include the Mass High Tech's Woman to Watch; number one ranking on AlwaysOn's 2008 Northeast 100 Top Private Companies and being named to that outlet's 2008 GoingGreen Top 100 list; the Commonwealth Institute's Top 100 Woman-led Businesses in Massachusetts; 2008 Top Innovators by internationally respected electronics magazine EDN; and one of the 100 most promising companies driving the future of technology by Red Herring. Maintaining an international profile, company executives have been sought-after to provide counsel on clean energy, climate change and related topics by government officials and industry groups throughout the U.S., Europe, China and Japan.
About Boston-Power
Boston-Power, Inc. is an emerging portable power company answering the call for safer, longer lasting Lithium-ion batteries – today. Led by Founder and CEO Dr. Christina Lampe-Onnerud, a recognized authority in the battery industry, the company is backed by leading venture capital firms Oak Investment Partners, Venrock, GGV Capital and Gabriel Venture Partners. Boston-Power's innovative systems approach to portable power and application-specific batteries starts with safety, while achieving next-generation performance gains. Founded in 2005, the company is headquartered in Westborough, Massachusetts and has Six Sigma-level manufacturing operations in Greater China.
"Boston-Power®" and "Sonata™" are trademarks of Boston-Power, Inc. Other brand names or product names are trademarks or registered trademarks of their respective owners.