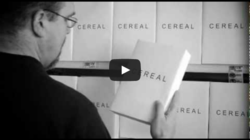 Many people don't realize that the same options we have when picking out our cereal also exist for many of us when it comes to our energy, too.
(PRWEB) April 29, 2013
A new video asks: "What if you went to your local grocery store, and you didn't have a choice? What if you had to buy the same cereal every day?" It's silly to think about only having one choice for the cereal consumers buy. But many people don't realize that the same options that are available when picking out cereal also exist for many consumers when it comes to energy, too.
The American Coalition of Competitive Energy Suppliers has launched the latest video in its educational series to help home and business owners across the country to better understand energy choice. This third video has a bit more fun than the first two educational videos, comparing our energy choices to a hyperbole of a consumer shopping for cereal.
Viewers might recognize the voice that rescues the protagonist from a world without choices, too. It's Peggy – the trusted peer resource from the first two ACCES videos. Peggy introduced consumers to who "competitive electricity and natural gas suppliers" are; what it means to have a choice; how electricity and gas are delivered to our homes and businesses; and how the energy choices we make affect this process.
This series of videos from the American Coalition of Competitive Energy Suppliers has been launched to help articulate information about energy competition in terms easily understood by the consumer in order to raise awareness about what energy choice is, the benefits of choice, and how consumers can shop for a supplier. ACCES is dedicated to empowering consumers to make informed decisions that best meet their individual needs when purchasing energy from competitive suppliers.
Check out the video, and learn all about energy choice, at http://www.CompetitiveEnergy.org.