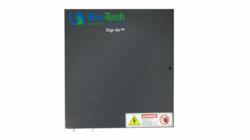 The Digi-Air is the the first of it's kind and will have significant impact on the HVAC industry.
Omaha, NE (PRWEB) May 14, 2013
Bes-Tech, Inc. an energy efficiency technology company headquartered in Omaha, Nebraska, is proud to announce that the Digi-Air™ Controller technology is officially patented. The Digi-AIR controller technology is equipped with a novel algorithm that calculates the minimum airflow set point of a zone and satisfies the indoor air quality requirements. As the first of its kind in the industry, the Digi-AIR controller dynamically optimizes the outdoor air intake and zone airflow based on the space type, occupancy schedule, and supply air freshness for a Variable Air Volume (VAV) system which reduces HVAC consumption by up to 30%. Since the Dig-AIR controller is designed to benefit a building served by air handling units and terminal boxes, it is applicable to commercial buildings, schools, universities, healthcare facilities, and industrial plants.
Digi-AIR consists of five (5) components: two CO2 sensors, two input modules, and one Process Module Controller (PMC). The sensors measure the air-to-CO2 concentrations of outside air duct and supply air duct. The CO2 sensors and the zone design information enable Digi-AIR to save significant fan power, heating, and cooling energy.
The controller minimizes zone level heating and cooling energy consumption by simultaneously accepting digital signals from the two input modules and sending out terminal box minimum airflow set points to the third party controllers using Modbus RTU (Roof Top Unit) communication protocol. The controller supports other multiple open communication protocols (such as BACnet) and can be seamlessly integrated with existing control systems.
About Bes-Tech
Bes-Tech has been a leader in energy efficient building systems technologies for the past decade. The company was founded on proven scientific engineering processes and technologies that reduce peak energy demand, minimize energy usage, and maximize energy efficiency. We actively work to lower the carbon footprint of the built environment.
For more information please visit http://www.bes-tech.net