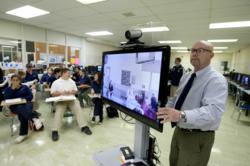 Albany, NY (PRWEB) November 08, 2011
SmartWatt Energy, Inc., a leading nationwide provider of turnkey energy efficiency solutions for schools and businesses, will be participating in the Adirondack Youth Climate Summit hosted by The Wild Center/ADKCAP in Tupper Lake, NY on Nov. 9-10, 2011.
SmartWatt Energy will be leading a workshop, "Resources for Schools," on Nov. 9th from 10:30am-12:00pm. The session, geared toward school administrators, teachers and facilities staff, will feature a presentation and interactive workshop by energy industry expert Bryan Genevic and Tupper Lake native Danielle Marquis. Bryan is a Mechanical Engineer with SmartWatt Energy who focuses on cutting-edge energy efficiency projects, and he has extensive experience with schools. Danielle Marquis is SmartWatt Energy's marketing manager and a volunteer with The Wild Center/ADKCAP.
In addition to the Workshop, SmartWatt Energy teams will be on hand during the second day to distribute Energy Efficiency Kits to student-led green teams in attendance. The Kits, co-sponsored by SmartWatt Energy & National Grid, feature energy-efficient compact fluorescent (CFL) light bulbs and information about incentives available to National Grid business customers who make energy-efficient upgrades. Students will be encouraged to take the kits back to their communities to spread the word about the importance of energy efficiency and incentives available to them. SmartWatt Energy recruiters will be available to talk with students about careers in the energy efficiency field, as well as discuss current openings in Northern New York with the college students in attendance.
The Adirondack Youth Climate Summit was developed with the objective of helping high school and college students develop carbon reduction action plans for their schools and institutions. The Summit will feature representatives from 30 high schools and colleges throughout the Adirondack region. The students will participate in information sessions about sustainable energy usage, building maintenance, waste management, landscaping and grounds management, school and community garden planning as well as how to integrate sustainability into their school's current science curriculum.
ABOUT SMARTWATT ENERGY, INC.
SmartWatt Energy, Inc., is a leading nationwide provider of turnkey energy-efficiency solutions. SmartWatt Energy is dedicated to lowering businesses' operational costs through demand-side energy-reduction strategies. SmartWatt Energy provides whole building energy assessments and implements lighting retrofits, variable-frequency drive upgrades, control system enhancements and other mechanical upgrades to help commercial, industrial, government and utility customers meet their sustainability goals. SmartWatt Energy's energy-efficiency services include construction-grade energy audits, value-engineered designs, self-performed installations, utility incentive procurement, facilitation of EPAct 2005 tax deductions and maintenance support. SmartWatt Energy is the sole Program Administrator and Implementation Contractor for National Grid's Small Business Program in Central and Northern New York. They are also an Implementations Contractor via Willdan for Orange& Rockland's Small Business Program in Rockland County, NY and for Con Edison's Small Business Program in Westchester County, NY.
###