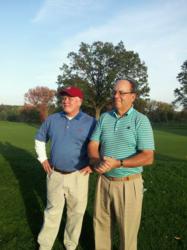 ...we came up with the best deal possible for the Association, the individual merchants, and, ultimately, the retail consumers of Connecticut.
Manchester, NH (PRWEB) November 21, 2011
Executives of Freedom Energy Logistics recently joined members of the Connecticut Retail Merchants Association (CRMA) at their 10th Annual Golf Outing at the Hartford (CT) Golf Club. The event brought together retail merchants from across the state and raised money for the multi-sport Nutmeg State Games.
FEL Power is the contracted energy services manager for CRMA, offering members like Macy's, Loews, Burger King and Target opportunity to receive their electricity at prices 10-25% lower than that billed by Connecticut utilities.
FEL Power Founder & Managing Director Gus Fromuth personally worked out the details of the agreement with Tim Phelan, Executive Director of CRMA, earlier this summer. "FEL has grown so much in recent years," Fromuth said, "that I don't always get to roll up my sleeves and work directly with clients. That's fine for the clients because we have one of the most highly trained teams in the sector, but I really enjoyed working right alongside Tim as we came up with the best deal possible for the Association, the individual merchants, and ultimately the retail consumers of Connecticut."
With the agreement, CRMA joined businesses and institutions throughout the five deregulated New England states and New York in receiving substantial electricity supply cost savings through FEL Power and its Halifax American Energy Company division. Working directly with customers, they ascertain the client's unique energy needs, then utilize wholesale opportunities, market guidance, and long-term strategic procurement planning to supply electricity at substantial cost reductions. Other clients include Westerly Hospital in Rhode Island; Saint Anselm College in New Hampshire; and Fairchild Semiconductor in Maine.
The Freedom Energy Logistics Family of companies obtains power at the lowest possible price for New England consumers. FEL Power (felpower.com) provides high-end energy management services in electricity and natural gas. Its unique Direct to Grid (or Self-Supply) model guides large-scale users into New England's wholesale electricity market, guaranteeing them access to electricity at the lowest available cost. Halifax American Energy Company (haecpower.com) is a retail electric energy marketer which, in partnership with South Jersey Energy, specializes in transactions converting wholesale and bulk power products into shapes and durations suitable for industrial, commercial, institutional and governmental end users. Its newest division, Resident Power (residentpower.com), is New Hampshire's first competitive electricity aggregator to focus exclusively on residences and small businesses.
###