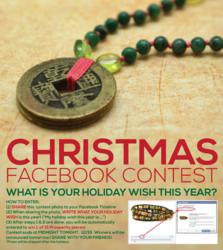 Los Angeles, Calif (PRWEB) December 20, 2012
Energy Muse Jewelry, the leading inspirational crystal jewelry company, has launched its 1-day Christmas Contest on Facebook where users have to share Energy Muse's photo and write what their holiday wish is this year. 15 winners will be chosen, and each will be rewarded a prosperity piece (either bracelet or necklace).
Energy Muse's Prosperity bracelets and necklaces attract prosperity, abundance, and luck. They include Jade, which has long been thought to attract wisdom and peace, and are strung with the color Red, which is considered to be extremely lucky. Whether you or a loved one are seeking luck, new opportunity, a little financial help during the holidays, or just overall prosperity in all areas of your life, a Prosperity piece from Energy Muse Jewelry is just what you need! Contest ends 12/19/2012 at midnight.
To enter the contest, visit:
http://www.facebook.com/energymuse
About Energy Muse:
Energy Muse is the leader in conscious wellness energy, providing tools of empowerment, inspiration and hope. The company, based in Southern California, was founded in 2000 by native Californians Heather Askinosie and Timmi Jandro, best girlfriends for over 35 years. Seeking to educate and reconnect the world to the ancient wisdom and healing properties of crystals, each piece of jewelry combines energy and intention which create a desired outcome. Energy Muse transcends what one might think of jewelry and has instead become a lifestyle of wearable energy. For more information about Energy Muse Jewelry visit http://www.energymuse.com