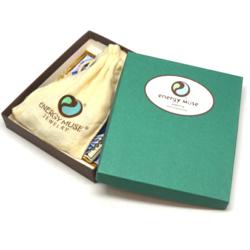 Los Angeles, CA (PRWEB) December 06, 2012
Energy Muse Jewelry, a leading inspirational crystal jewelry company, is now selling Zodiac Mandala gift sets gift sets! A mandala is used as an instrument of meditation, providing guidance towards becoming centered. The signs of the zodiac provide great insights to the many special qualities and talents that we possess, reflecting a different side of your personality and experiences. Zodiac signs are used to gain a better understanding of ourselves as well as the events and people around us.
Energy Muse has created 12 different Zodiac Mandala sets personalized for each of the 12 zodiac signs: Aries, Taurus, Gemini, Cancer, Leo, Virgo, Libra, Scorpio, Sagittarius, Capricorn, Aquarius, and Pisces. Each set comes with a mandala exhibiting the unique zodiac sign in the center, as well as 9 gemstones custom-selected to help set intentions for each sign.
To read detailed instructions on how to use these sets to align with the cosmic energy of your birth sign, visit: http://www.energymuse.com/store/treasures/zodiac-mandala-sets.html
About Energy Muse:
Energy Muse is the leader in conscious wellness energy, providing tools of empowerment, inspiration and hope. The company, based in Southern California, was founded in 2000 by native Californians Heather Askinosie and Timmi Jandro, best girlfriends for over 35 years. Seeking to educate and reconnect the world to the ancient wisdom and healing properties of crystals, each piece of jewelry combines energy and intention which create a desired outcome. Energy Muse transcends what one might think of jewelry and has instead become a lifestyle of wearable energy. For more information about Energy Muse Jewelry visit http://www.energymuse.com.