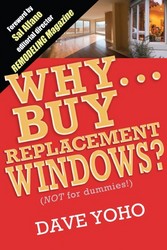 Have a Great Year Every Year
Winchester, VA (PRWEB) September 18, 2008
American homeowners may be unaware of the ongoing and crucial issue regarding energy losses in connection with their homes.
Ed Helvey, President and CEO of Oakhill Press, announced today the release of a new book addressing this issue which will be available at bookstores and on Amazon after September 1st. The book is a product of extensive research by Dave Yoho, noted author and businessman. The information contained within the book is a product of extensive research by Dave and his company and has already received resounding reviews in its pre-publication release. It is already available as an (e)book and can be ordered as a download or a CD recording at http://www.WindowHelpBook.com.
The book is entitled Why…Buy Replacement Windows? In it, Dave points out that the exterior wall area of the average home contains one opening (usually a window) for every 100 square feet. Despite the fact that the walls, floors and ceilings may meet an efficient insulation code, the windows and their glass components may represent 15 - 18% of the wall area. This represents a weakness which permits excessive heat loss/gain. In the year 2007, 33 million replacement windows were installed versus 22 million used in new construction. Dave points out that it is alarming when we are replacing windows at a rate of 150% of what is being installed.
He cites the Department of Energy study, which states: "Windows can be one of your homes most attractive features. Windows provide views, daylighting, ventilation and solar heating in the winter. Unfortunately, they can also account for 10% to 25% of your heating bill." ("Energy Savers Tips" http://www.energysavers.gov.
The good news is that this book is a tremendous resource for homeowners. It provides them with methods by which to reduce excessive heat loss or gain and shows them how to do prudent research before buying windows. It also contains substantial survey data indicating the return a homeowner who installed efficient windows might expect when they sell their home. In chapter 6, Dave gives factual advice on how to select the proper window and installation service complete with the questions that wise homeowners will want to ask those sources who provide these services.
In summation, Mr. Helvey stated, "We appreciate the opportunity to address these critical issues and encourage homeowners and others to view our website http://www.WindowHelpBook.com where they can preview the first two chapters of the book without cost." He went on to state - "We believe this is a 'first' in publishing."
ABOUT THE AUTHOR
Dave Yoho presides over one of the oldest and most successful consulting groups in the US. He sits on the board of public companies, has appeared in over 100 video training series and has made over 5,000 speeches in 50 states and in 18 foreign countries.
Dave Yoho has designed communication systems used by Fortune 500 companies as well as small entrepreneurial organizations. In 1991, he wrote his first best selling book: "How to Have a Good Year Every Year" (Berkeley Press) which was circulated internationally in five languages. In 2005, his sequel, "Have a Great Year Every Year" was published and again became a best seller.
Now he has been selected to research, develop and write this book: "Why…Buy Replacement Windows?" We know the reader will benefit from his research.
Additional biographical information is available via his website: http://www.daveyoho.com
###