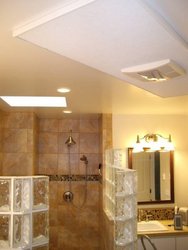 Now California residents can have code compliant, energy efficient ENERJOY radiant comfort and quiet ventilation in new or existing building bathrooms
Old Saybrook, CT (PRWEB) September 25, 2009
SSHC, Inc.'s new low-sone fans and energy efficient lights in their Bathroom Comfort Center radiant heating system conform to the newly revised regulations for California's Title 24 for building code compliance. "Now California residents can have code compliant, energy efficient ENERJOY radiant comfort and quiet ventilation in new or existing building bathrooms," according to Richard Watson, President of Solid State Heating, Inc. SSHC, Inc..
The ENERJOY Bathroom Comfort Center is a compact energy-efficient radiant heating, lighting and ventilation system designed specifically for bathrooms. A new exhaust fan, light and nightlight conform to the most recent Title 24 regulations making SSHC's electric radiant Comfort Center the most energy-efficient bathroom heating system available to homeowners and businesses. Heating is provided with electric radiant panels, providing warm floors and other surfaces with "twice the comfort of other systems using only half the energy".
California's Energy Commission adopted the Title 24 Building Energy Efficiency Standards updates in 2008, and building permits for applications submitted on or after January 1, 2010 are required to comply with regulations. The Energy Efficiency Standards for Residential and Nonresidential Buildings were established in response to a legislative mandate to reduce California's energy consumption. According to their website, the Commission expects California's building efficiency standards (along with those for energy efficient appliances) to save an estimated $23 billion by 2013.
UL Listed, the Bathroom Comfort Center supplies clean, quiet radiant heat with a ceiling-mounted ENERJOY heat panel. Centered within the heat panel is a room light, a night light, and a low sone fan for ventilation and exhaust. Comfort is maintained with an operative temperature-sensing Euro-white thermostat. The 3-rocker Decora switch enables control of lighting and exhaust.
The unit can be ordered in multiple sizes and voltages. ENERJOY 'green' radiant heat panels are light-weight, fully recyclable, have a low carbon footprint and life of the building longevity. For more information, go to ENERJOY Bathroom Comfort Center.
With a low amp draw, ENERJOY partners well with wind and solar energy sources. The Dept. of Energy and the National Association of Homebuilders have verified energy savings of 33%-52% using ENERJOY radiant heating systems.
SSHC, Inc. produces and distributes electric radiant heating systems and is the pioneer of ENERJOY I Radiant Heatmodules.
###