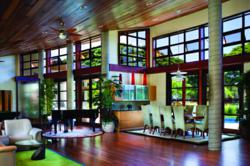 Association of International Metallizers, Coaters and Laminators (AIMCAL) has given EnerLogic the Technology of the Year award for 2013.
(PRWEB) April 25, 2013
Overburdened HVAC systems and outlandish utility costs are a thing of the past with EnerLogic VEP35 low-e film on every window. A technological breakthrough, this award-winning window film does the job of several products in one.
Of the numerous benefits that the right window film can bring to a consumer's home or office, here are five of the most significant:
Award Winning Technology
Eastman Chemical's EnerLogic VEP35 low-e window film is so advanced it's award winning. The Association of International Metallizers, Coaters and Laminators (AIMCAL) gave EnerLogic the Technology of the Year award, which means it's recognized as the most significant new technology in the industry.
According to NASDAQ, this material insulates windows as much as an additional pane of glass. Even better, EnerLogic film performs as well at a fraction of the cost.
Reduce Cooling Costs for the Home or Office During Summer Months
EnerLogic window film reduces the load on home or office HVAC systems without sacrificing comfort. In fact, this revolutionary material lets consumers enjoy more consistent temperatures than running the air conditioning without window film.
Unprotected windows allow sunlight through, which means harmful UV rays and passive solar heat are part of the package. Even with heavy drapes that block rays and light, heat builds up at the windows, radiates into the room and adds to the HVAC system burden.
With EnerLogic, 99 percent of UV rays stay outside where they belong, reducing solar heat gain. People aren't exposed to dangerous UV rays, carpet and expensive furnishings don't fade and the whole building is easier to cool.
Traditional window film absorbs UV rays and solar heat, which turns every window into a radiant heater all summer long. A better choice is the window film that sends rays and heat back to their source.
Retain Heat in Winter for Year-Round Comfort
Reflecting heat away in summertime is great, but what about when it's cold outside? Not all window film is created equal. Traditional film is only on the job when it's sunny. EnerLogic's low-emissive or low-e coating keeps heat inside instead of losing it through the glass.
A low-e coating on the inside helps in much the same way as the reflective coating on the outside. Heat bounces off the film and returns to the room. With EnerLogic, consumers are only heating the inside space, not trying to heat the whole outdoors.
Don't Sacrifice Light to Save Money
All this talk about reflective coatings and blocking rays might make some consumers expect darkened rooms, but that's not so. EnerLogic window film is crystal clear. Windows don't have that dark, tinted look and beneficial natural light passes through.
The special coatings act as reflective filters instead of sponges. Traditional film soaks up heat and light, but EnerLogic lets visible light come through. Rooms are brighter in the daytime without artificial light, which means consumers save even more energy.
Return on Investment in Years, Not Decades
Replacement and storm windows insulate against UV rays, solar heat gain and radiant heat loss. EnerLogic VEP35 low-e film does the same job, but at a much lower price point.
Seeing a return on investment for replacement windows is sometimes an effort in futility. Rooms are more comfortable, but by the time energy savings catches up with the cost of new windows it could be time to replace them again. ROI for EnerLogic is approximately three years. Energy savings is the same as with expensive upgrades, but this product pays for itself in no time.
EnerLogic window film costs less, reduces the HVAC load year-round, and it looks great doing it.
Absolute Perfection Window Tinting & Graphics, a Vista Window Film dealer serving Maryland, Washington DC, and northern Virginia, now offers Enerlogic window film to commercial and residential customers. These products are in high demand with commercial buildings seeking LEED certification and homeowners seeking to save money on their heating and cooling costs.
Contact:
Absolute Perfection Window Tinting and Graphics
5399 Enterprise St.
Sykesville, MD 21784
(410) 549-4285
http://www.aptinting.com