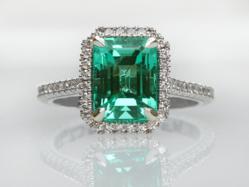 San Francisco, CA (PRWEB) May 13, 2013
Union Street Goldsmith is excited to announce its latest addition to their exceptional collection of fine and custom jewelry. They have a gorgeous new ring design with a 3.18 carat emerald cut emerald.
Emerald is the color of the season and this ring is an absolute must see. Union Street is also likely to continue to add new pieces featuring emeralds and emerald-colored gems to their inventory throughout the season.
The 3.18 carat emerald has a vivid green color, fine clarity and precision cutting to make it a very rare specimen. Emeralds are known for having many visible inclusions and cloudiness. Union Street's rare gem is very clean and 'gemmy'; one of the prettiest their staff of six GIA Graduate Gemologists has ever seen.
The platinum ring features a halo setting, the perfect showcase for the emerald. The emerald is flanked by .43 carats of colorless, VS quality diamonds, which are also set in the band.
Emeralds are the May birthstone, as well as considered the Mother's Stone. Since Mother's Day falls in May as well, jewelry with these exquisite gems is a perfect choice for anyone looking for a special gift.
To see this stunning ring in person, please visit Union Street Goldsmith at 1909 Union Street, San Francisco, CA 94123. Visit their website for a look at their collection.
About the company:
Glenda Queen, with a background in arts and crafts, entered the jewelry business in 1964. After eleven years making jewelry at McLeans in Sausalito, she and her present partner Terry Brumbaugh, opened Union Street Goldsmith. Glenda chose a neighborhood she hoped would be a comfortable setting for her craftsmen as well as her clients and it worked. Terry Brumbaugh, raised in the jewelry business, later became a Gemologist. After an extensive period of travel, he joined with Glenda to head up the Union Street Goldsmith sales staff. Terry has a rare gift for his memory of client's collections, enabling him to design new pieces to fit his clients' special tastes and their collections. An excellent sense of style and fashion endows Terry with the ability to give valuable guidance to his clients in their jewelry selection, helping each one to create an overall special look within their collection. Union Street Goldsmith is the ideal place to find custom jewelry, engagement rings or diamond rings. Please visit their website for more information and a preview of their collection, http://www.unionstreetgoldsmith.com.