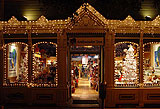 You can donate toys for needy children through the SF Firefighters Toy Program
San Francisco, CA (PRWEB) November 22, 2011
On December 3, the 21st annual Festival of Lights Holiday Celebration kicks off with the Snow Queen leading a sidewalk parade of children, bringing toys to donate to San Francisco children's charities as they welcome Santa and his elves in front of the historic Cudworth Mansion. All manner of costumed characters will be present to entertain the crowd until dusk when all of the buildings will light up with twinkling white lights, turning Union Street into a magical fantasyland for young and old alike.
As a platinum sponsor of the holiday event, Union Street Goldsmith, a San Francisco custom jewelry store, will stay open until 7pm for the festivities and holiday gift shopping. They will also be lighting up the storefront along with the rest of Union Street. Inside the store they will feature festive new jewelry displays.
Visitors will also be able to decorate the Union Street Gingerbread House at the Metro Theater from 3 -7pm and cupcake decorating from 3- 5pm. Santa will arrive in front of the Metro Theater at 5:30pm where he will be available for pictures until 7pm.
"You can donate toys for needy children through the SF Firefighters Toy Program. Collection barrels will be available on Union Street at the event and throughout the holiday," says Glenda Queen of Union Street Goldsmith.
For more information on Union Street Goldsmith, call (415) 658-9315 or visit them online at http://www.unionstreetgoldsmith.com. Union Street Goldsmith is located at 1909 Union Street San Francisco, CA 94123.
About Union Street Goldsmith
Union Street Goldsmith is a San Francisco custom jewelry store that specializes in engagement rings, diamond rings, wedding bands, 22 karat gold, platinum, pearl necklaces, and jewelry repair. In business since 1976, Union Street Goldsmith is now creating engagement rings and wedding bands for the children of couples whose rings they made decades ago.
Union Street Goldsmith also offers appraisal services by a GIA certified gemologist. They offer insurance appraisals, insurance appraisal updates, verbal appraisals and estate appraisals. Clients can sit and wait during the appraisals or leave the pieces and come back when the service is finished. An appointment is needed for all of these services.
# # #