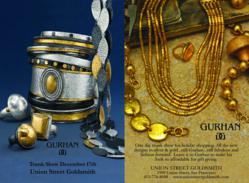 All the new designs in silver and gold... still fabulous and fashion forward.
San Francisco, CA (PRWEB) December 16, 2011
Union Street Goldsmith, a San Francisco custom jewelry store, will be having their One Day Trunk Show featuring all new designs by Gurhan on Saturday, Dec. 17, from 11am to 6:30pm. The one day only event will feature one of a kind Gurhan masterpieces and his classic 24 karat gold jewelry.
"All the new designs in silver and gold... still fabulous and fashion forward," says Glenda Queen of Union Street Goldsmith. "Leave it to Gurhan to make his look so affordable for gift giving."
Gurhan is renowned for pioneering the revival of pure 24 karat gold jewelry. His jewelry is known for its distinctive aesthetic, featuring the evidence that every piece is painstakingly hand made from scratch. Today his designs are driven by the dictates of the pure metal; every piece must achieve strength, lightness and affordability, as well as beauty in its design. But the warmth and sensuality that is central to pure gold remains at the soul of his pieces and is the first thing that appeals to his devoted followers.
For more information on Union Street Goldsmith, call 415-658-9315 or visit them online at http://www.unionstreetgoldsmith.com. Union Street Goldsmith is located at 1909 Union Street in San Francisco.
About Union Street Goldsmith
Union Street Goldsmith is a San Francisco custom jewelry store that specializes in engagement rings, diamond rings, wedding bands, 22kt gold, platinum, pearl necklaces, and jewelry repair. Glenda Queen and Terry Brumbaugh founded Union Street Goldsmith in the Marina District of San Francisco in 1976. They have been jewelers so long that they are now creating engagement rings and wedding bands for the children of couples whose rings they made decades ago.
Union Street Goldsmith also offers appraisal services by a GIA certified gemologist. They offer insurance appraisals, insurance appraisal updates, verbal appraisals and estate appraisals. Clients can sit and wait during the appraisals or leave the pieces and come back when the service is finished. An appointment is needed for all of these services.
###