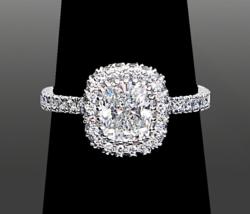 Designer & Master Diamond Setter, Vanessa Nicole, has found 3 unique, NEW ways to stand out in the crowded jewelry industry.
San Diego, CA (PRWEB) February 02, 2012
At her studio's Grand Opening Celebration on January 28th, 2012, Designer Vanessa Nicole stood in front of 40 guests as she explained the three components of her new business model that will change the way future clients experience purchasing an engagement ring.
How is Vanessa Nicole Jewels a game changer?
1. WORK DIRECTLY WITH THE DESIGNER & MASTER DIAMOND SETTER---
Each client meets one-on-one with designer, Vanessa Nicole, who personally walks them through every step of the process to create the engagement ring of their dreams. Clients never deal with a salesperson – only Vanessa Nicole, the one who will actually make their ring. She guides clients through a process so different from that of other jewelry stores that it feels like a privilege to be on her client list. According to the World Diamond Council, the diamond industry employs approximately ten million people around the world in varying roles from mining to retail. Clients typically only ever get as far as the front of a store sales counter, contributing to the allure and mystery of the jewelry industry. After past clients had commented on the diamond rings industry being too secretive, Vanessa Nicole decided to put her work bench front and center so her clients could become a part of the creation process.
2. MAKING OF THE RING™ FILM---
A value added perk that is now offered to all VNJ clients is a Making Of The Ring™ documentary, capturing in real time the creation of each client's engagement ring. Customers won't find this service in other jewelry stores.
According to Vanessa Nicole, "Most engagement rings are made on an assembly line from a rubber mold in an overseas factory. I create custom, one-of-a-kind engagement rings, knowing exactly who it's being made for. Almost always, I have a picture on my bench of the lovely couple."
Vanessa Nicole documents the entire process of design and creation on film, including a recorded interview with the client saying every romantic thing he should be telling his girlfriend each day but might not. His voiceover is then edited into footage of her one-of-a kind engagement ring being created from scratch. It's a keepsake of their love. Click here for examples of Client Engagement Ring Films.
3. YOU HAVE TO APPLY TO BE HER CLIENT---
Clients work directly with the Designer. Consequently, a limited number can be accepted each month. On average, only eight commissions for custom pieces are accepted per month. This allows the optimal amount of time to be devoted to ensuring each client's experience at VNJ is unsurpassed.
In 2011, the Rapaport Group's RapNet Diamond Price Index for one-carat polished diamonds rose 19 percent. In the struggling US economy, one in which most business owners are emphasizing lower prices, an unfortunate result is often a reduction in both quality and service. At Vanessa Nicole Jewels, clients can expect the best in quality & service—it appeals to those who are obsessed with having only the best. Vanessa says, "Every stone is perfectly set. My clients are meticulous about their work and I'm meticulous about mine."
***Ethical Pursuit***
To address the long-standing issue of unethical diamond mining, Vanessa Nicole Jewels also financially supports the Diamond Development Initiative. In November of 2011, Diamond Development Initiative International (DDII) and Responsible Jewellery Council (RJC) announced their working relationship on industry outreach for artisanal diamond production. The goal is to bring retailers across the country together to raise awareness within their clientele of the necessity for artisanal diamond production. "Development diamonds" are produced responsibly, with respect of human rights, in conflict-free zones. More than a million African diamond miners and their families live and work in absolute poverty, outside the formal economy, in countries struggling to recover from the ravages of war. The Kimberley Process is a legally binding global certification system for rough diamonds typically used in diamond rings. This process now involves more than 75 countries and controls the movement of all rough diamonds from mine to market throughout the world, but it is only a regulatory system. The Diamond Development Initiative is an important complement to the Kimberley Process.
Vanessa Nicole Jewels is located inside the Jeweler's Exchange in downtown San Diego's Gaslamp Quarter. Engagement rings start at $6,500. You can apply for your very own by visiting: http://www.VanessaNicole.com
###