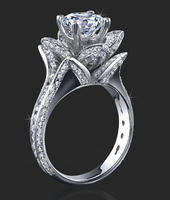 Secret Diamond's capability to show buyers the actual engagement ring they intend to purchase is just one feature that sets the company apart from other jewelry retailers
Saint Paul, MN (PRWEB) April 2, 2009
Secret Diamond, a leading retailer of fine quality diamond rings and diamond engagement rings, announces that all of its engagement rings will soon be on sale. From April 2 until April 15, all engagement rings from Secret Diamond will be 10 percent off, up to a maximum of $500, providing everyone the opportunity to find the perfect ring at an affordable price.
"At Secret Diamond, we believe in providing exceptional quality and unbeatable value to our customers. With Secret Diamond's limited-time sale on all engagement rings, buyers will find big diamonds at small prices," says Jim Morris, owner of Secret Diamond.
Secret Diamond is able to offer price-conscious consumers fine quality diamond jewelry and diamond rings at substantial discounts by vigorously pursuing unique and innovative supply channels unavailable to other companies, and by offering some of the lowest margins in the industry.
With a larger engagement ring collection than most jewelry stores, including vintage-style diamond engagement rings and men's engagement rings, Secret Diamond has a ring to match any taste or budget. Rings are available in a variety of metals, including 14K and 18K yellow gold and white gold, platinum and palladium. Newly available, palladium rings are much less expensive than platinum, as well as 12 percent harder. Palladium is also hypoallergenic, a great solution for individuals with metal allergies.
Unlike other Web sites, Secret Diamond provides actual photographs of its rings, rather than stock images or computer-generated renderings. In addition Secret Diamond's newly launched engagement ring videos provide a rotating image of rings so every detail of their bands and diamonds is visible, enabling consumers to see what their ring will look like in person.
"Secret Diamond's capability to show buyers the actual engagement ring they intend to purchase is just one feature that sets the company apart from other jewelry retailers," Morris says. "Aside from this transparency in the buying process, Secret Diamond offers consumers a variety of high quality engagement rings at a price that cannot be beat. Add it all up and Secret Diamond means big diamonds with small prices; the variety and costs associated with rings from other jewelry retailers, on the other hand, means small diamonds with big prices."
For more information about Secret Diamond or to view its collection of diamond engagement rings, visit http://www.SecretDiamond.com.
# # #