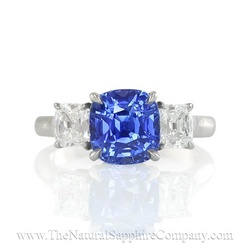 The trend is leaning towards non-diamond ring styles.
NEW YORK (PRWEB) December 11, 2008
"The trend is leaning towards non-diamond ring styles." Ellen Crawford a sales representative at Tiffany's noticed the rise in alternative stones lately and wondered if it was due to the economic climate or just the holidays.
Auction Records for non-diamond engagement rings are a bright spot for Christie's:
"People want to buy rarity and value. They want diamonds and color gemstones that are not easy to replace," said Rahul Kadakia, head of Christie's North America jewelry department. He remarked about a recent sale of a cushion-shaped "blue velvet" sapphire. The 42.28 carat, rare color ring sold at nearly $3.5 million.
Andy Cohen, a trader in Geneva, mentioned that the sapphire set a world record as world markets have fallen. "In this market there is interest in things that are truly rare and irreplaceable," Cohen had said to Reuters.
That interest can also be found in the retail jewelry market when people are looking for true value.
However, another way to retain value and keep the surprise factor up is to find a unique piece. And a blue sapphire set engagement ring is definitely different.
The Natural Sapphire Company says 80% of their sales are for sapphire engagement rings. "Sales have been up all year, mainly due to the rise in popularity for non-diamond engagement rings. Since Princess Diana chose a sapphire engagement ring, it's become a growing trend."
Then again there are the ultra rich, who too are considering blue diamond engagement rings. On December 10, 2008 Christie's set a new world record for the highest price ever for a diamond. The Wittelsbach Diamond, a 35.56-carat cushion-shaped gem, often compared to the Hope Diamond, sold for $24.3 million US.
The rare gem was snapped up by billionaire diamond-dealer Laurence Graff, Christie's spokeswoman Alexandra Kindermann said.
Blue is the color for the new year.
MULTIMEDIA GALLERY http://www.businesswire.com/cgi-bin/mmg.cgi?eid=5851006