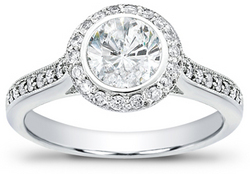 "If a store's policy is too stringent, and you are not satisfied with your ring, you might be stuck with it – which can be a huge problem,"
Los Angeles, CA (PRWEB) December 7, 2009
Diamond engagement ring shoppers make the following five mistakes all too frequently, which are easily prevented, according to Sarah Harris, Marketing Manager at Adiamor, a jewelry manufacturer and online vendor based in Los Angeles.
Not learning about the four Cs of diamonds: Unsuspecting shoppers for diamond engagement rings could find themselves at the mercy of a "used car salesman," if they don't prepare themselves beforehand.
The solution: Know the four Cs: cut, color, clarity and carat. Cut refers to a diamond's proportion and how it affects its brilliance. It is regarded to be the most important trait. The color of a diamond is graded on a scale and has a significant impact on its value. Clarity denotes inclusions and blemishes within and on a diamond's surface, which can detract from its beauty. The weight of a diamond is measured in carats.
Shopping at a mall: Traditional, brick-and-mortar retailers in shopping malls have extremely high overhead, which they pass on to customers, said Harris. "Commercial locations have to tack on so much money to see any kind of profit."
The solution: Consider buying direct from a manufacturer. Direct online manufacturers "can typically beat commercial retailers by 30 to 40 percent," Harris said.
Not comparison shopping: "Many customers fear shopping for diamond engagement rings online because of the negative stigma associated with it," Harris said.
The solution: Shop online with confidence. The days of consumer wariness regarding online transactions are over and the online commerce regulation sites like Bizrate and the Better Business Bureau help consumers shop with confidence. Buyers should steer clear of online diamond engagement ring retailers without positive feedback on regulation sites.
Settling for the first ring: "Make sure to look at a variety of rings," said Harris. Engagement ring shoppers are often pressured by overzealous salespersons more concerned with making a commission than providing valuable customer service.
The solution: Take a peek at the ring recipient's jewelry box to see what pieces she already has. This is often the best clue in selecting a ring that will be a good match.
Not being familiar with a store's return policy: "If a store's policy is too stringent, and you are not satisfied with your ring, you might be stuck with it - which can be a huge problem," Harris said.
The solution: Make sure the store you plan to do business with has a reasonable return policy. Adiamor offers a 30-day policy, which allows shoppers plenty of time to resolve any issue.
###