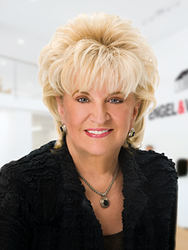 "Roxann Taylor and her team were a clear choice for us in representing our brand in the Dallas Fort Worth market and we are extremely pleased to have them as part of the Engel & Völkers family." - Anthony Hitt, CEO Engel & Völkers North America
(PRWEB) November 14, 2014
Engel & Völkers, the global luxury real estate firm, today announced that Roxann Taylor & Associates, Realtors is the newest addition to its North American network and the first in Texas. The new brokerage will provide the firm's global standard of premium service in the market as Engel & Völkers Dallas Southlake.
"Our brand continues to attract the very best in real estate as we continue to grow in North America," said Anthony Hitt, CEO of Engel & Völkers North America. "Roxann Taylor and her team were a clear choice for us in representing our brand in the Dallas Fort Worth market and we are extremely pleased to have them as part of the Engel & Völkers family."
Taylor has more than four decades of experience in real estate and has built a reputation for high quality service. She was one of D Magazines "Best Real Estate Agents" for the last 14 years and has won numerous business awards throughout her career. Taylor is a Legacy of Women awards recipient for her philanthropic contributions through her company as well as a Shining Stars recipient for the generous support she's given to 43 different fundraisers and charities. She also sits on the advisory board of Dallas Cowboys' Jason Witten's Score Foundation, a nonprofit dedicated to the end of domestic violence. State Representative Vicki Truitt has recognized Taylor and her company for their contributions to the community.
Engel & Völkers Dallas Southlake includes more than 20 full-time professional real estate advisors, with over 200 years of combined real estate experience and well over 9,000 successful real estate transactions. They are certified in numerous designations and have gained the respect of others in the business and throughout the metroplex. Taylor also announced the expansion of the company's presence with a location at the Shops of Lakeside and her plans to open in other markets across the metroplex.
"Engel & Völkers most closely emulates the core values of my own real estate career in offering the best concierge style services in the world," says Taylor. "I have one big passion -- making a difference in people's lives, whether it be exceeding the expectations of my clients or supporting shelters, children and the community. As part of Engel & Völkers' worldwide network that spans 39 countries and six continents, we will be able to offer our clients access to a global audience and the systems and support will ensure they get the best of the best every single time."
"There is no doubt that with Roxann Taylor's years of experience and leadership, Engel & Völkers Dallas Southlake will be a valuable addition to our North American and global network," said Tom Kunz, EVP, Engel & Völkers North America.
The DFW market has a national reputation for its thriving economy and each year it makes the Top 10 list of fastest growing large metro areas in the United States, known for its exceptional properties, premium lifestyle and growing international interest.
Engel & Völkers currently has offices in key markets including New York City, Miami, Los Angeles, Scottsdale and Denver.
About Engel & Völkers
Since its beginning in 1977 as a specialty boutique providing exclusive, high-end real estate services in Hamburg, Germany, Engel & Völkers has become one of the world's leading companies specializing in the sale and lease of premium residential and commercial property and yachts. Engel & Völkers currently operates a global network of over 5,000 real estate advisors in 550 residential brokerages and 43 commercial offices spanning 38 countries across six continents, offering both private and institutional clients a professionally tailored range of luxury. It established its North America corporate headquarters in 2007 and opened its first brokerage in the same year. Committed to exceptional service, Engel & Völkers supports its advisors with an array of premium quality business services; marketing programs and tools; multiple platforms for mobile, social and web; as well as access to its global network of real estate professionals, property listings and market data. Engel & Völkers is an active supporter of the Fair Housing Act and the Equal Opportunity Act. Each brokerage is independently owned and operated.