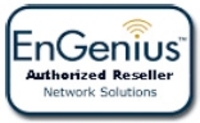 While looking for ways to reward our partners, we developed the EnPower Partner Program. It will not only assist our elite resellers in the continued sale of our products, but also give them the tools they need to increase their own profits and efficiently serve their own customers
Costa Mesa, CA (PRWEB) March 23, 2010
EnGenius Technologies, the award-winning manufacturer of voice and data products, launched a new dealer-incentive program to establish strategic partnerships with its valued dealers. The EnPower Partner Program offers resellers all the advantages of a direct and dedicated relationship with EnGenius Technologies toward a single goal of increased sales and profits.
"While looking for ways to reward our partners, we developed the EnPower Partner Program. It will not only assist our elite resellers in the continued sale of our products, but also give them the tools they need to increase their own profits and efficiently serve their own customers," explains Andy Chang, General Manager, EnGenius Technologies.
Under the general EnPower Partner Program, all authorized resellers receive a dedicated team of EnGenius experts to handle all sales and technical questions, as well as electronic marketing materials and dealer listings to assist in the sale and service of EnGenius wireless products.
However, under the more exclusive EnPower Elite Partner Program, reseller benefits increase exponentially. For example, EnGenius provides a dedicated marketing team to allow for fluid collaboration and customization of a unique marketing campaign. This team will assist in generating customer leads and creating internet links directly to the Elite reseller's website. The marketing collaboration will work to promote the Elite reseller as a trusted seller of EnGenius products, to increase brand visibility and customer loyalty and, subsequently, to increase product sales and profits.
"Our company has sold the EnGenius product line for many years. We have had much success with the EnGenius DuraFon products and EnGenius Data products, especially in the hospitality market. Therefore, it only made sense for us to take it one step further and become an EnGenius EnPower Elite Dealer. With the rebate program, co-marketing program, priority repair program, etc. it is an excellent opportunity for us to pursue additional revenue with a product in which we are confident." Karen Lytle, General Manager, Electronic Communication Services, Inc.
The new EnPower Partner Program is designed to provide the needed support to every dealer of EnGenius' award-winning business and consumer networking products - from indoor and outdoor wireless access points, bridges and routers to long-range cordless phones. And, for those qualified dealers, like Electronic Communication Services, Inc., the EnPower Elite Partner Program offers an additional level of benefits and resources toward the continued sale and service of EnGenius products.
For additional information about the EnPower Partner Program or other EnGenius products, call 888-735-7888 or visit http://www.engeniustech.com.
About EnGenius Technologies
EnGenius Technologies is a global technology innovator specializing in long-range telephone, data and VoIP communications. The company pioneered the "Affordable Long-Range Wireless" product category. Its award winning, long-range devices consistently outperform competitors' deployment coverage. Established in 1999, EnGenius Technologies, Inc. is a wholly-owned subsidiary of Senao Networks, a Taiwan RF communications manufacturing company.
# # #