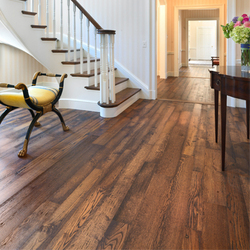 Everyone wants high quality materials that increase home value and engineered floors are in that sweet spot, beautiful wood floors homeowners can install themselves that cost less than traditional solid wood floors
Ruckersville, Virginia (PRWEB) June 16, 2010
Mountain Lumber Company, pioneers of the reclaimed flooring industry, have announced this week that they are now creating FSC-certified custom engineered flooring (solid wood veneer mounted to a multi-ply substrate). Unlike most engineered products available today, Mountain Lumber will manufacture its engineered flooring in-house on a per-order basis using skilled craftsmen. Despite a difficult economy, Mountain Lumber Company expanded its manufacturing facilities to accommodate this new custom engineered flooring line. "Everyone wants high quality materials that increase home value and engineered floors are in that sweet spot, beautiful wood floors homeowners can install themselves that cost less than traditional solid wood floors," says John Williams, a Mountain Lumber sales representative.
According to Mountain Lumber Company CEO, Bill Stone, this newest brand extension is the result of years of careful research. "We wanted to create a product that would perfectly capture the look and texture of our solid products, while also infusing the added stability that is inherent in a multiply engineered product." According to the National Wood Flooring Association, "Engineered flooring is perfect for those areas of the house where solid wood flooring may not be suitable, such as basements, kitchens, powder rooms, and utility rooms. Because the grains run in different directions, it is more dimensionally stable than solid wood." A 2010 National Floor Trends hardwood market study found that engineered flooring sales account for 52% of all hardwood flooring sales.
In keeping with Mountain Lumber's dedication to environmental conservation, all custom engineered products will carry the Forest Stewardship Council (FSC) Chain-Of-Custody certification. The FSC is an independent, non-governmental, not-for-profit organization established to promote responsible forest management. The FSC trademark identifies responsible production and consumption of forest products, thus enabling consumers to make purchasing decisions that benefit both people and the environment.
Mountain Lumber's custom engineered flooring is available in over 25 different grade options, with either a 3mm or 5mm wear layer. These thick wear layers can be re-sanded and re-finished multiple times, if needed, just like a solid wood floor. Other custom modifications include custom pre-finishing, specified widths, and custom milling for patterned floors and stairways.
Product Details:

Wear Layer: FSC™ antique reclaimed wood or FSC™ newly harvested wood
Substrate: 9-Ply FSC™ Baltic birch, bound with a water-based low-VOC adhesive
Pre-Finish: Available in no and low-VOC formulas for healthier indoor air quality
Manufacturing: Crafted in the United States by skilled artisans
Since 1974, Mountain Lumber Company has traveled the globe searching dilapidated buildings for usable antique wood to transform into world-class flooring. By reusing antique wood, Mountain Lumber not only preserves the past, but also creates beautiful and unique flooring that becomes a part of communities for generations to come. Mountain Lumber is a FSC™ Chain-of-Custody manufacturer that specializes in FSC Recycled, Mixed and Pure woods. To view their products, visit http://www.mountainlumber.com or call 1-800-445-2671.
# # #