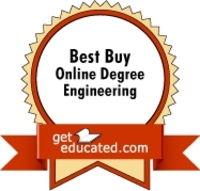 Stanford University and MIT are top names in engineering distance learning in the United States today.
Essex Junction, VT (PRWEB) July 9, 2008
GetEducated.com, LLC, America's consumer-oriented, online education research firm, has released the results of their national higher education survey of tuition costs at accredited, distance-learning engineering graduate school degree programs. The online education survey ranks and recommends 28 engineering schools as Best Buy Online Universities, offering brand name graduate degrees online to consumers at tuition costs well below the national average.
The survey of 46 regionally-accredited engineering schools offering 216 graduate degrees revealed distance learners seeking a master's in engineering or an allied technology career should be prepared to pay as little as $6,930 or as much as $86,000. Average cost: $23,203. GetEducated.com's Top Ranked Best Values in Online Engineering Master Degrees is posted online.
"The wide disparity in engineering school costs -- $7,000-$86,000 -- is a red alert to consumers that they should comparison shop carefully before enrolling in any single online college program. Shopping around for an online degree is increasingly the best form of college financial aid," comments GetEducated.com's CEO and Chief Analyst, Vicky Phillips.
Premiering at the number one spot this year is North Carolina State University (North Carolina) with a modest cost of $6,930 for an online Master of Engineering in multiple major areas, such as Computer or Electrical Engineering, for state residents. Out-of-staters will pay significantly more ($20,400) for the same degree.
Texas Tech University achieved a number two ranking for their Masters in Systems and Engineering Management ($7,880 for Texas Residents); $11,910 for Out-of-State Applicants.
California's State University Dominguez Hills snagged the #4 ranked spot for affordability with a $8,000 Master's in Quality Assurance for applicants nationwide. Oklahoma State University ranked #6 at $9,440 for Oklahoma residents and active duty military.
The top two ranked most expensive distance learning master's in engineering were offered by: Massachusetts Institute of Technology ($86,000) and Stanford University ($57,600).
"Stanford University and MIT enjoy unshakeable world-class reputations in the technology and engineering fields. Few would question the top-tier price charged by these standard bearers whether their degrees are offered on-campus or delivered online to distance learners."
The national survey identified several trends in higher education costs that directly impact consumers as they go online to earn a master's degree:
1) Twenty-seven of the twenty-eight Best Buys in Online Masters come from engineering schools at publicly funded, name brand universities, such as Iowa State University (#19), Colorado State University (#18), and Kansas State University (#26).
2) Capitol College (Maryland) (#22) is the only private college that made the Best Buy among online colleges ranking list. Capitol College, founded in 1927, offers an array of residential degrees, and is the only private college in Maryland dedicated to engineering, computer science, information technology and business.
"There exists a severe shortage of engineers in the United States. Consumers looking to recession proof their careers should invest in higher education online or through distance learning delivery in any engineering career now to insure career mobility in these uncertain economic times," recommends Phillips. "Stanford University and MIT are top names in engineering distance learning in the United States today."
Complete details of the 216 graduate engineering degree programs surveyed and ranked for GetEducated.com's Consumer Best Buy list are available inside the consumer research firm's free downloadable college directory, GetEducated.com's Best Distance Learning Graduate Schools, Engineering.
About: GetEducated.com, founded online in 1989, is the only online education resource that educates consumers about how to locate quality online degrees while avoiding online college degree mill rip-offs and scams. GetEducated.com, a trusted consumer education advocate, researches, rates, and ranks America's best and worst online colleges. Offering unbiased advice for consumers looking to get educated -- not get ripped-off -- online. Searching for a quality college online? Don't get frustrated … Get Educated! (SM)
CONTACT: Melissa Eubank, Information Services, GetEducated.com, LLC, Essex Junction, VT. 05456. 802-899-4866. Email: Melissa (at) geteducated.com. Website: http://www.geteducated.com.
###