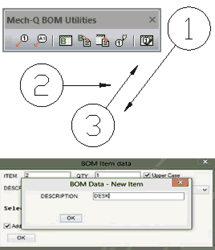 It's extremely easy to use as the BOM Module handles the entire process.
Bend, OR (PRWEB) October 23, 2012
AViCAD.com announced today a faster way to create a schedules within both AutoCAD and its all-in-one standalone CAD Program.
The scheduling tool is called the General Bill Of Material Module (or General BOM ) and allows users to build a table by adding various balloon call-outs within their CAD drawing.
The ending result is a list of the materials and parts along with the quantities of each needed in a project. The Bill Of Material can then be used for cost estimation and billing purposes.
Normally without the routine, a CAD user would need to define attributes or tags for each drawing object and lastly link them into a schedule. Owner Victor Abela says "The General BOM offers a simplified version of this same process but takes just a fraction of the time."
Similar BOM** tools are also available within AViCAD's Piping, Ducting and Structural modules but they are restricted to their discipline.
The General BOM will allow a user to count any object so long as a bubble is attached to it. The utility also supports exporting the table to a Excel spreadsheet for additional evaluation.
Optionally the utility can place all balloons on a unique layer to allow the CAD user hide them before printing.
General BOM Features:

Tabulate objects easily
Modify balloon text
Allows you to modify schedule
Change column Names and rows
Calculate cost with formula option
Rerun schedule at any time to update count
Owner Victor Abela says "This utility will really simplify the process of counting objects in your drawing. This is an advanced tool, yet we've designed the utility so that any drafts-person can use it."
The module is just one of the features in AViCAD which is is available either as an AutoCAD® ot LT add-on.
AViCAD is Plant Design CAD software which also includes standard routines such as the General BOM for any kind of drafting. AViCAD is compatible with AutoCAD® and saves to DWG format by default.
Victor continues "It's extremely easy to use as the BOM Module handles the entire process. And when your drawing changes, it's just a matter of re-running the table."
*BOM is an acronym for Bill of Materials
Additional product options will be available with the upcoming release of AViCAD 2013 in November 2012. A short video introduction to AViCAD and download a free trial are also available on their website.
About AViCAD
AViCAD clients are involved in hydro power, food processing, aquaculture, petrochemical, biotechnology, treatment plants, heavy industry, marine, mining, military, pharmaceutical, pulp & paper, energy generation, snow making plants and various other related markets.
For more information about the company, latest news, and purchasing information, visit avicad.com on the Web at http://www.avicad.com/about.
Please contact Erik Zetterberg, 61149 South Hwy 97, #109 Bend, OR 97702 USA
Tel: (888) 271-7121 sales(at)avicad(dot)com, with questions about this press release.